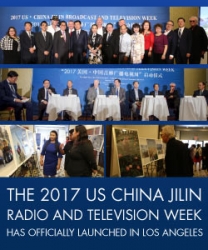 Los Angeles, CA, September 20, 2017 --(
PR.com
)-- To further promote the cultural exchanges between China and the United States and to further enhance the understanding and friendship between the two countries, the "2017 US China Jilin Radio and Television Week" series of activities co-organized by Media Office of Jilin Provincial Government, Foreign Affairs Office of People's Government of Jilin Province and EDI Media Inc. officially launched on Monday, September 18th.
During the week of "Jilin Radio and Television Week," they will broadcast the "Songhua Stone Margin," on September 17th - September 23th as well as, "Chicks Want to Fly" and 10 other programs with strong Chinese elements of the Jilin animated cartoon. The channels they will be played on include Universal Oriental TV 44.9, DishNetwork ch9949, SlingTV, Damai, Chamming China, SunTV and ADTHIPTV and many more. During this week they will also show 5 Jilin micro-films!
The "China Jilin Radio and Television Week" is an event put on for foreign news culture exchange in Jilin Province in recent years. It has been successfully held in Japan, Germany, France, Russia, Australia, New Zealand, Laos, Thailand and Singapore. Now that the Jilin Province and Los Angeles media exchange forum was successfully held, the Jilin Province will visit the San Francisco media audience to meet and they will partake in their city.
They will participate in many other activities like visiting the ABC7 studio in Burbank and lighting and top entertainment companies during their week long trip in the U.S.