SocksLane Adds New Models to Their Women Cotton Compression Socks Collection and Offers Launch Discount
Amazon shoppers can now choose between 3 different designs for their Favorite Women's Cotton Support Stocking and Get Exclusive Discount Coupon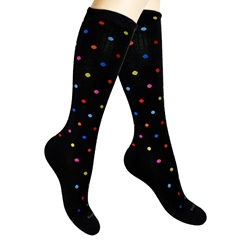 Portland, OR, September 28, 2017 --(
PR.com
)-- Just in time for the Fall 2017 season, SocksLane has announced the addition of 2 new models to expand their offer of their Amazon Top rated Cotton Support Stockings.
From now on people will be able to choose between 3 models of their favorite compression stockings. The new models offer the same outstanding comfort, resistance and look as the first model that was launched early this year.
SocksLane's products are designed for women who have circulatory problems or varicose veins, who spend long periods standing, sitting, traveling, or that simply want to take care of their legs feeling more energized and reduce swelling without compromise on style.
Conventional compression socks are commonly composed of 100% nylon or other synthetic materials well known for causing rashes and discomfort.
SocksLane hypoallergenic compression socks are made using a blend of 65% Natural Combed Cotton and selected high-quality stretch fibers following the company's proprietary manufacturing process.
The result is a sock that is naturally comfortable, fresh, breathable and resistant that can be worn safely for long periods of time.
SocksLane Women Cotton Compression Socks are available in 3 models, 2 sizes and a full Money Back Guarantee and can be purchased on Amazon.com
For a limited time, the company is offering a 35% Discount on the new collection, to redeem the offer customers simply need to search Amazon.com for "SocksLane Women Compression Socks" and enter coupon "BIGSAVER" at checkout.
Alternatively, a link within the complimentary .pdf ebook attached "Healthy Legs for a Happy Life" by Dr. W Brown, gives access to the exclusive 35% OFF discount.
Contact
SocksLane
Amanda Dixon
503-568-1586
SocksLane.com

Contact
Multimedia
A pdf version of Dr. W. Brown ebook containing a 35% Discount offer on all SocksLane women's Cotton Compression Socks