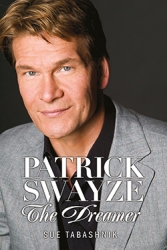 Walled Lake, MI, September 26, 2017 --(
PR.com
)-- Author Sue Tabashnik has written three books, the latest being, "PATRICK SWAYZE The Dreamer." In this book, released this month by Passion Spirit Dreams Press and available on Amazon, Barnes&Noble.com, and multiple other sites, Tabashnik presents how Swayze's focus on dreams for himself and others sustained him and guided him to live a zest-filled and hopeful life even while dealing with great adversity. The book describes Swayze's diversified career in the arts world for over thirty-five years as an actor, dancer, singer, songwriter, producer, and choreographer, as well as his connection with his family, his spirituality, and his involvement in advocacy for dance, cancer advances, and conservation. Tabashnik sheds light on why Swayze is so beloved and how his remarkable spirit and enormous legacy will always shine bright: "I think that Patrick, by having been such a talented, kind, courageous, spiritual man, has provided a positive humanistic, spiritual energy that many, many people throughout the world tap into and expand."
This new book is filled with Swayze's own words compiled from multiple media sources, thirty photos of Swayze, Tabashnik's realization of her dream of meeting Swayze, and multiple quotes from professional colleagues who worked with Swayze up until his untimely death at age 57 of pancreatic cancer in 2009. In honor of Swayze and her late grandmother Leah Tabashnik, who also died of pancreatic cancer, a portion of the proceeds from the sale of the book will be donated to the Patrick Swayze Pancreas Cancer Research Fund at the Stanford Cancer Institute.
Tabashnik remembers well her first time seeing Swayze as an actor in the 1985 miniseries North and South. However, it was the 1987 Dirty Dancing performance that captured her heart and she wrote her first two books as a tribute to the movie.
She credits Swayze with giving her inspiration and hope to achieve some of her dreams. About her new book, she says, "Patrick is my hero. I wanted to honor him. I wanted to share his values and philosophy. I tried to tell his story as much as possible in his own words. He faced his illness with dignity and lived much longer than the medical profession had anticipated."
Joshua Sinclair, Director, Writer, Producer wrote: "It's a wonderful journey into the hopes, dreams, and sufferings of a great man. Throughout the book you show how Patrick fashioned his own life to conform with his spirituality and undying hope and resilience."
D. Donovan, Senior Reviewer, Midwest Book Review wrote: "Sue Tabashnik has been an active member of the Official Patrick Swayze International Fan Club since 2000 and has written two prior books about Swayze that focus on the movie Dirty Dancing, so she's in a good position to provide an authoritative biography of the man in her latest effort, recommended for any Patrick Swayze fan and for collections strong in entertainment history."
Tabashnik has worked as a master's level social worker since 1977. She lives in the Detroit area. The author's website is
www.likedirtydancing.com
.