Lazy Lee and Lockdowel Team Together for Closet Summit 2017 in Austin
Rotating Closet Creator, Lazy Lee, and Lockdowel Snap-Together Fastening Will Exhibit Together at the Closet and Storage Summit in Austin Oct. 5 & 6.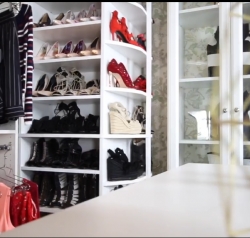 Austin, TX, September 26, 2017 --(
PR.com
)-- Lazy Lee® the inventors of rotating closets and cabinets and Lockdowel snap-together fastening will co-exhibit at the Closet and Storage Summit in Austin, Texas, October 5 and 6 at the Doubletree by Hilton. Lazy Lee is using Lockdowel fastening exclusively for glue-less, screw-less assembly of all the company's modular and rotating closet and storage creations.
"It is a natural fit for Lazy Lee to exhibit with Lockdowel. With Lockdowel assembly each of our rotating closets and modular systems can be built, disassembled and built again without damaging the integrity of the wood," Lee Goldsticker owner of Lazy Lee says. "Because there are no screws or cams, each Lazy Lee piece looks smooth and custom made. That is important to our customers."
"Lockdowel has even made drawer assembly and installation within our product line easy enough for the Do-it-Yourself customer to feel like a professional," Lee says. "We're excited to apply the Lockdowel solution to a wide array of systems serving a variety of industries."
With more than 200 participants, the Closet and Storage Summit in Austin on October 5 and 6 is the only closet conference exclusively for independent closet owners by independent closet professionals. The Summit will feature workshops, round table discussions, showroom tours, meals and fun. For more information go to: http://www.closetsummit.com/events-~-sessions.html
About Lazy Lee Designer Lee Ralph Goldsticker creates modular closet systems bearing the registered mark Lazy Lee®. With dozens of available configurations of colors, shelving, and drawers designs include the Valet™, Woman's Dream, State Room Series, Pantry Unit, Pandora's Box™, The WineCellar by Lazy Lee® and The Garage Unit. These configurations reflect the company's commitment to affordable solutions and elegant space management.
Inquiries for general product information, please direct to info@lazylee.com. Inquiries for sales, distributorships, manufacturing overseas, please direct to sales@lazylee.com. Lazy Lee®14 NE 1st Ave., 2 Floor, Miami FL 33132 USA Tel/ Fax +1 (855) 508-5551, Cell +1 (318) 206-8238
About Lockdowel
Lockdowel provides fasteners, drawer slides and hinges for fast and easy installation of cabinets, furniture and architectural millwork. Patent pending. Lockdowel 41920 Christy Street Fremont, CA 94538, (650) 325-8732
www.lockdowel.com
Contact
Mary Lynn Heath, PR
Mary Lynn Heath
405.641.9733
www.lockdowel.com

Contact