OONA Joins Metranet Telkom Indonesia to Offer Brands Reward Program Coupled with AI Chatbot
Following the Telkom Indonesia partnership signature, OONA the company behind the cutting-edge OTT OONA Mobile TVApp that can deliver exciting content and live Television to millions of people in developing countries via 3G and 4G connectivity, is now set to offer UPOINT, an exciting state of the art rewards system which is exclusive to the Indonesian market.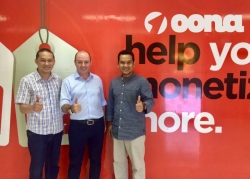 Singapore, Singapore, September 27, 2017 --(
PR.com
)-- Both companies CEO share the same dynamic vision and drive to offer high quality free entertainment and a tailored user experience to emerging markets.
A premiere in Ad supported OTT, OONA integrate a demographic-specific artificial intelligence ChatBot, named SiskaBot, complete with photo, serves as an Ad Personaliser Manager, just like a real life counterpart. SiskaBot is ready and waiting to chat and help 24/7, 365 days a year. The conversations she will have with the user will help determine exactly what he or she likes, and the chatbot will even check to see if she has done a good job for the user's ads experience This will ensure that the latter gets the very best that OONA has to offer in the way of optimized app ads and great money saving promotions.
In keeping with its philosophy: "OONA – Beyond Television, the Data that Serves Everyone"; users are set to derive substantial benefits from this UPOINT program, and the more that consumers watch OONA's channels, engage in the app, chat and share with SiskaBot, chat with other viewers, and share with friends, the more UPOINTS they can accumulate to redeem for branded goods. These UPOINTS, which are shown in a virtual OONA wallet, achieve different statuses anywhere from Rookie to Master, depending on the number of points the user has acquired. They can skyrocket very quickly for regular consumers, and will be enjoyed by 135,000,000 plus Indonesians from December of this year.
OONA appreciates that in today's high tech environment, conventional marketing will not longer cut it. The team knows that direct chatbox conversations with users can pinpoint every individual's unique interests and needs with laser precision, and to that end, the target ads are successful on both sides of the business and user relationship. This strategy not only helps the consumer get what they want and save money, it does not show them any irrelevant or annoying ads. Moreover, research indicates that the majority of users like being able to ask questions in real time, and appreciate being given personalised online experiences.
Founder and CEO of OONA, Christophe Hochart, regards precise advertising and user rewards as a strategy to enhance customer experience and to give users a chance to profit while they simultaneously receive the very best of TV and VOD entertainment. This includes the largest international broadcast networks; live and on demand channels, acclaimed original series, films of all genres; and upcoming locally produced content. This form of advertising also covers the service cost, and is very different to other platforms where users are actually charged for the data they use to watch ads. So it is a win-win situation.
The program is powered by Metranet Telkom Indonesia's UPOINT, which covers all of Indonesia. It offers a user friendly simple touch service menu, and a virtual payment tool for virtual purchase transactions. Everyone wants simplicity and speed, and UPOINT transactions can be made anytime, anywhere, with just a few clicks. There is a choice of payment methods which are perfect for the user's lifestyle; small denominated transactions are readily acceptable, and there is a secure transaction guarantee.
Further information about OONA can be found at the company's website:
https://www.watchoona.com/
Contact Email: press@watchoona.com
Contact
OONA
Christophe Hochart
+85295446777
www.watchoona.com

Contact