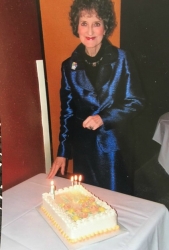 Detroit, MI, September 30, 2017 --(
PR.com
)-- Patricia Emery, Stellar Scholars wizardess and ex-Ford Stats whiz, celebrates her birthday November 20th, the same day as her all-time favorite movie actress Gene Tierney. But Christmas begins every year the month before in October. And with just cause for the non-profit collective of talented professionals sponsoring all manner of creative pursuits from writing to car design to song-writing to Stellar Scholars' own Wilderness or Wild Golf which will be hosting the first "You Go Girl Bettie Page Open" for breast cancer survivors October 8th.
"The Holiday season for us," observes co-chair Frank Dattilo, "is not only the 25th of December. It is the twelve days of Christmas, the eight days of Hanukkah and, for the fostering of Black enterprise, the secular seven days of Kwanzaa."
Patricia also points out that, after Christmas and St. Valentine's Day, the celebration of Sweetest Day on October 18th, the feast day of writer, artist and physician St. Luke, is the biggest day for donations to Stellar Scholars through sale of its gifts to loved ones of sister sites Stellar Romance and Saints and Scholars loyal readers across God's Good Earth.
Those readers hail from all 50 States, Washington, D.C. and 31 foreign countries from Israel to Iceland, from Boston to Brazil.
Jennifer Watters, Editorial Director of Stellar Novellas, quietly boasts: "And its not only a prime time for our own line of gift books, but also for Stellar Scholars coffee mugs with popular prose poems by Kathy Moffet right on them; mugs with Tony Randazzo's Avanti and GT Hawk masterworks on them, as well as baseball shirts with Detroit Tigers and Indianapolis 500 painter John Baker's exciting work right on the front under the heading:
I don't care if I ever come back.
"Not coincidentally," continues Jennifer, "that is the title of our popular book featuring John's paintings and original baseball lore by the Stellar Scholars Roundtable of gifted writers and all dedicated to the late Detroit Free Press baseball beat writer Drew Sharp with book jacket quotes by former Detroit News beat writer and friend Paul Harris. There is no book like it anywhere, which makes it a very special gift indeed. And while suggested donations of any amount (higher or lower) earn no tax-deductions, proceeds go to the continuance of our commissions to students and emeritus retired's for their stellar writing and art."
Stellar Scholars Executive Creative Director Ashley Sword says the non-profit group's has their inspirational leader Patricia Emery to thank for that. "Used to be for many of us the 25th of December was the most eagerly awaited day of the entire year-- and the 26th the most deflating. Patricia changed that for all of us."
2017's Holiday season promises to be even more special as Patricia presents two new Dickens- and Frank Capra-flavored Christmas live "StoryTube" reads on YouTube to join many other Christmas stories and their local-Emmy Award nominee "The Last Noel," now marking its 29th year featuring fictional detective Mark Slade, a creation of Roundtable chief Dattilo.
And there is something more this season of merry making and fond memory:
An original song by Paul Lubanski and Johnny Johnson titled "(Thank the Lord, it's gonna be a) Country Christmas."
Yes, Virginia, there is a White Christmas in Memphis, Tennessee and Patricia Emery wants everyone on our great big crystal blue planet to know it!
For more information, visit
www.StellarRomance.co
and
www.SaintsandScholars.org
.