Exectras Partners Offers Enrich Financial Wellness to Small Businesses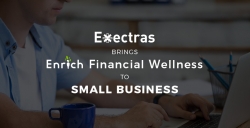 San Diego, CA, October 04, 2017 --(
PR.com
)-- Exectras has partnered with iGrad to offer Enrich Financial Wellness, the innovative financial literacy educational platform, and one of the most requested benefits of 2017.
Financial wellness is quickly becoming a "top initiative" for employers. However, for many small businesses (Aon Hewitt), which comprise over a third of the nation's working population (sba.gov), access to "big business benefits" remains a problem. Small businesses frequently face prohibitive costs when considering workplace benefits for stressed and distracted employees. However, businesses with fewer than 10 employees make up the bulk of clientele for Exectras, a member-based benefit marketplace. Exectras provides access to a comprehensive program offering benefits to smaller businesses at a nominal cost.
Tom Batchelor, V.P. of Strategic Relationships for Exectras, sought out financial wellness for Exectras clients after recognizing lack of proper money management as a persistent problem among employees. Batchelor stated, "They don't understand money. Let's fix that." By adding the Enrich Financial Wellness platform to their menu of benefits, Exectras hopes to do just that. iGrad VP, Kris Alban, mirrored the sentiment when asked about the partnership, "Financial wellness is currently recognized as the most in-demand benefit. Our mission is to ensure that employees everywhere have access to this vital and important education. Partnering with Exectras to provide this service to small businesses gets us much closer towards reaching that goal."
Enrich Financial Wellness
, the award-winning employee financial literacy platform offered by iGrad, provides access to a self-guided, personalized and responsive financial education through the engaging use of learning modules, video games, articles, and tools. Enrich empowers employees by developing their financial awareness and knowledge; enabling them to tackle the source of their money management stress.
Batchelor, who labels Enrich as a "legacy building proposition," anticipates offering this in-demand benefit will further endear employees to their employers thereby building trust, motivation and loyalty. Batchelor affirmed "small business owners need to understand that they can get large employee benefits for their employees no matter what." He concluded simply "let's change the world and get our bills paid."
About iGrad:
iGrad, a technology-driven financial wellness education company, encompasses two unique and award-winning white-label platforms: iGrad™ and Enrich™, both designed to cover a wide spectrum of money stresses and needs. Both platforms offer a high level of interaction, customization, and adaptive learning technology.
iGrad is a three-time winner of Education Program of the Year (The Institute for Financial Literacy), Best Product award for three years running (University Business Magazine), as well as the Outstanding Consumer Information Award (AFCPE).
The iGrad platform - for higher education - is established on over 600 campuses, empowering students to make wise financial decisions and easing their financial stress.
The Enrich platform - for employers and financial institutions - uses a prescriptive approach to develop a personalized financial wellness action plan for every user.
About Exectras:
For ten years, Exectras, a unique member-based organization, has been working to offer innovative and valuable workplace solutions for small business. Focused on providing programs that improve bottom line results and "large employer" type benefits for employees, Exectras enables small businesses to better compete for and retain talent.
Contact
iGrad
Egan O'Keefe
760-487-8414
http://enrich.org

Contact