CSI Bequest Promotes Safer Veteran Bathrooms with Purple Heart Homes
Donation of 500+ dual purpose grab bars and commercial-grade shower curtains made to veteran's organization Purple Heart Homes by CSI Bathware.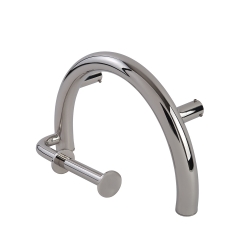 Charlotte, NC, October 05, 2017 --(
PR.com
)-- CSI Bathware, a division of Component Sourcing International, proudly donated over 500 dual function grab bars and commercial-grade shower curtains in advance of Veteran's Day celebrations to Purple Heart Homes.
Statesville, NC-based Purple Heart Homes helps service connected disabled veterans of all eras find comfort in their homes. "We are dedicated to providing safe and accessible housing for our nation's most valuable heroes. There is no monetary value that can make up for the sacrifices made by these fighting men and women of America. However, the support of individuals and companies like CSI go a long way to show an aging Veteran the continued appreciation their community has," says John Gallina, Co-founder and CEO, Purple Heart Homes.
"Our expertise with ADA compliant products for the bathroom makes this partnership with Purple Heart Homes ideal," said John Hornberger, General Manager of the Bathware wholesaler and strategic sourcing company. "We help both the elderly and the disabled stay safely in their own homes."
CSI Bathware donated over 300 dual-function grab bars similar to the combination toilet paper holder and grab bar shown.
The wholesale Bathware company also donated 190 commercial-grade vinyl shower curtains which are staph-resistant, mold & mildew resistant, and flame retardant.
Component Sourcing International, LLC (
http//:www.componentsourcing.com
) based in Charlotte, NC is an ISO9001:2008 certified company which manufactures and imports custom metal components as well as ADA compliant bathware. Product categories including: folding shower seats, grab bars, brass drains, specialty shower curtains, and hand held shower. CSI has an outstanding reputation for responsiveness and quality.
John Hornberger
1-704-843-9292
jhornberger(at)componentsourcing(dot)com
Contact
Component Sourcing International
John Hornberger
704-843-9292
componentsourcing.com
Libby Wilson
203-453-6000 x203

Contact
Multimedia
Donation of 500+ dual purpose grab bars and commercial-grade shower curtains made to veteran's organization Purple Heart Homes by CSI Bathware