Grieving Daughter Creates Coloring Book to Remember Dad
Artist, Nami Nakamura, deals with her grief by drawing. She is then inspired to create a coloring book called "Remembering Dad," available on Amazon, for those that are grieving their dads. Word spreads as those who also grieve purchase books as part of their healing journey of grief. The outpouring for this book leads her to design a coloring book for those grieving their moms. More books will follow as popularity grows.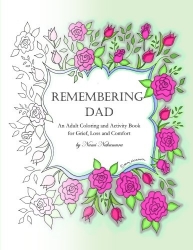 Seattle, WA, October 10, 2017 --(
PR.com
)-- Artist, Nami Nakamura, pens her first coloring book after hearing the news of her dad's death. She drew for therapy and to express her grief. As she interacts with others who have lost loved ones, she was inspired to put together a coloring book of her drawings to help others cope with their grief and express their loss and love for those that lost their dads.
The feedback has been remarkable and has led her to start her second book for those that lost their moms. Others are requesting books for their losses. Her loss and pain has given way to hope and joy as she uses her grief into a way to help others through their grief and pain. Little did she know that her dream of being an author would come true when her beloved father died.
Her book is available on Amazon.com and her biography can be found on http://amazon.com/author/naminakamura.
She is available for interviews and articles to help spread the word of her labor of love and to help those in desperate need of comfort and hope.
Contact
DeNami Studio
Nami Nakamura
206-992-3722
denamistudio.com

Contact
Multimedia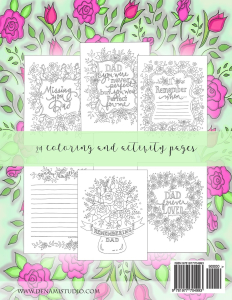 Back cover of "Remembering Dad" Coloring Book by Nami Nakamura