One Nation Project the Musical
One Nation Project the Musical, a perfectly timed, satire told through two musical works focusing on the impact of the Great Financial Crisis and it also is a tear-jerker depiction of action told over a 70-year time span in America.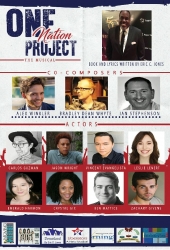 Houston, TX, October 13, 2017 --(
PR.com
)-- One Nation Project the Musical is a collective of musical theater pieces around the pronounced topic of polarization with undertones of tolerance and companionship will perform one of two shows on Friday November 10, 2017 at Queensbury Theatre at 8:00 p.m. Queensbury Theatre located at 12777 Queensbury Lane Houston, Texas 77024 will showcase a second Houston showing of the musical on Saturday November 11, 2017 at 8:00 p.m.
One Nation Project the Musical, a perfectly timed, satirically aligned and topical sign of the times story told through two musical works in progress. Fired! The Musical focuses on the impact the Great Financial Crisis of 2008 affected the lives of our citizens. Liberators: An American Musical is a tear-jerking depiction of action traversing over a 70-year time span in America. Liberator's storyline is told from the viewpoint of three unlikely associates, of which are from varied ethnic backgrounds whose lives are connected after the start of WWII's dramatic end of the Liberation of camps Buchenwald and Dachau to the present. Current political views, national disasters, gun control, immigration and financial crisis are the spark of views facing a nation that is currently polarizing us as a nation. And such views are also the inspiration behind the One Nation Project. Touching on areas of riveting subject matter while platforming actions of friendship and the strength of togetherness shows' one example of the types of catalysts that these powerful Rock musicals will address. Both shows demonstrate the human spirits' moral eternal flame. The music is composed by Ian Stephenson, Alex Winkler & Bradley Dean Whyte with book and lyrics written by Eric C. Jones. The cast includes: Ben Mattice, Zachary Givens, Jason Wright, Vincent Evangelista, Leslie Lenert, Emerald Aue, Denise Ward, Lizzie Guest, Carlos Guzman, Emily Beth Lange, Camron Alexander, Mark Jones, Robert Jacobs, Stormie Jones, Huy Phan, Cara Cochran and Crystal Nix.
The well-versed brother and sister producing team, book writer/producer Eric Jones and co-producer Lea Jones have both been involved in the Christian Theatre circuit with extensive credits as writers and directors. Eric Jones and Lea Jones are both graduates of Texas Southern University. Mr. Jones has won six awards for writing Best Screenplay, where his works Dreamland was selected into the National Black Theatre Festival. Mr. Jones also won the Platinum Remi at the World Fest Houston Film Festival for his Film We are All Made of Stars to name a few of his accomplishments.
Lea Jones is an award-winning producer of film. Ms. Jones has all-embracing writing acclaim of plays and film works to include The Witness, Surrender, Family of Faith, Destiny Calling, It's Finished, As for Me and My House and so many more. Her film The Ring was nominated for five 168Film Project Awards, including best picture. Ms. Jones has numerous writing and directing film and theatre credits.
Queensbury Theatre has celebrated performing arts such as Liberators since 1956 highlighting the best of American Theatre. Aligned with entertaining and educating, the One Nation Project production plans to continue the workshop after the 2018 Chicago Musical Theatre Festival next February.
For tickets to the production please contact: (832) 509-0077
For media inquiries, advertising, appearances or interviews please contact:
The Public Relations Place
(832) 731-6712
Contact
One Nation
Catherine Mitchell
832-519-0077
https://www.facebook.com/events/153813021879545

Contact