Divorced Catholics Now Have a Resource They Can Turn to
The New Book, "Divorced. Catholic. Now What?" Gives Accurate, Much Needed Answers on being a Divorced Catholic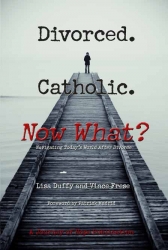 Los Angeles, CA, February 22, 2008 --(
PR.com
)-- Two words not often heard together: "divorce" and "Catholic". Yet Catholic men and women divorce at the same rate as the rest of society, and until now they have not had an accessible resource to help them find answers – answers the Church really offers. Co-authors Lisa Duffy and Vince Frese published "Divorced. Catholic. Now What?" in November, 2007.
Says Lisa Duffy, "I wrote this book because even though Catholics divorce at the same rate as the rest of society, they have been left to look for answers in Protestant programs – until now. The Protestant programs are good – but they do not address the specifically Catholic issues these men and women face, such as the annulment process, the sacraments and Church teachings on divorce". The information in the book is backed by sacred Scripture, the "Catechism of the Catholic Church", Canon Law, encyclicals such as "Familiaris Consortio", and all the practical advice both Mrs. Duffy and Mr. Frese bring to it from their own experience in being divorced Catholics.
This new work is seventeen chapters of good read that covers topics such as understanding what the Church really teaches about divorce, dispelling the myths about the annulment process, sex and dating as a divorced catholic, praying during times of distress, dealing with the ex-spouse, helping children through the ordeal, and much more. A workbook accompanies the book, with reflection questions, space for journaling and great resources in the Appendix. There will be an upcoming DVD series to compliment the book duo.
Ms. Duffy directed a program she wrote for divorced Catholics in parishes throughout the Archdiocese of Atlanta since 2002. "This book was borne out of the program I have directed for local churches, and is an offering of love for all those who are suffering from the pain of divorce, yet are trying to hold onto their faith". Mr. Frese had already started a similar program for divorced/single Catholic parents when he met Lisa. Their vision and ideas gelled, and they formed a partnership, Journey of Hope Productions, and co-authored the book, bringing both the male and female perspectives to the table. Vince commented, "This book is a life-giving approach to people who feel they are outcasts in their own church".
These books, as well as a trailer for the upcoming DVD can be found at www.divorcedcatholic.com.
###
For more information on this topic, or to schedule an interview with Lisa Duffy or Vince Frese, please call Lisa at 866- 649-8385 or email her at lisaduffy@divorcedcatholic.com.
Contact
Journey of Hope Productions
Lisa Duffy
404-493-2190
www.divorcedcatholic.com
lisaduffy@divorcedcatholic.com

Contact