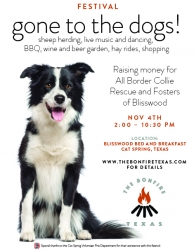 Cat Spring, TX, October 27, 2017 --(
PR.com
)--
The Bonfire Texas – Festival Gone to the Dogs
is the first annual festival, November 4, 2017 at Blisswood Bed & Breakfast benefiting All Border Collie Rescue and Fosters of Blisswood. The Bonfire Texas is for "kids" of all ages who want to enjoy being surrounded by a working ranch, the great outdoors, all while supporting animal rescue, and a big bonfire to gather around.
Festival activities include:
· Auction benefiting All Border Collie Rescue
· Live Music with Bellville's David Lewis and Band
· BBQ, Sodas donated by Dr Pepper Bottling, Water, Wine and Beer Garden
· Sheep Herding and Dog Dancing
· Campfire sing-alongs with Houston's Ken Gaines
· Shopping with Cat Spring's Mustang Alley Antiques
· All Border Collie Rescue adoptable dogs
· Hay rides
· Bonfire supported by the local Cat Spring Fire Department
Here are the items in the auction, which will be on display and up for auction at The Bonfire Texas on November 4, 2017:
· Jose Altuve (Astros) signed bat
· Earl Campbell (UT) signed jersey
· DeAndre Hopkins (Texans) signed jersey
· Earl Campbell (UT) signed and framed photograph
· John David Crow (A&M) signed jersey
· Mike Tyson signed glove
· Mike Tyson signed and framed photographs (2)
· Stan Lee "Guardians of the Galaxy" framed Poster
· Melvin Upton Jr. (SD Padres) signed, game bat
· Larry Dierker (Astros) signed baseball
· Brazilian Cowhide from Mustang Alley Antiques
· One night's stay at Blisswood Bed & Breakfast
· Signed Print of One of Photographer Skeeter Halger's Pulitzer Prize Winning Photo
The Bonfire Texas will be held rain or shine as the festivities will be held under the cover of the big show barn. The bonfire will be in the field just outside the show barn and supported by the Cat Spring Volunteer Fire Department.
For more information and tickets, visit the website at www.thebonfiretexas.com. Tickets are $45 for adults, includes BBQ, $15 for kids 12 and under. Proceeds benefit All Border Collie Rescue and Fosters of Blisswood.
About The Bonfire Texas: The Bonfire Texas – Festival Gone to the Dogs is a festival created to celebrate and support animal rescue. First year sponsors and supporters include The Brandsoup Agency, Enviroconsystems, Inc., Dr Pepper, Mustang Alley Antiques, Blisswood Bed and Breakfast and many volunteers. To purchase tickets, visit www.thebonfiretexas.com.
About Blisswood Bed and Breakfast:
More than just a bed and breakfast, BlissWood is an enchanting setting for outdoor weddings, private and corporate retreats, family reunions, company picnics or just a tranquil escape. Come stay with us and you'll understand why we call this magical place BlissWood. To learn more and book your stay, visit www.blisswood.net.
About All Border Collie Rescue:
All Border Collie Rescue, started in 2008 and has rescued over 1300 dogs, is a not for profit volunteer rescue organization dedicated to the rescue of Border Collies. This passionate group of Border Collie lovers have had the good fortune of meeting and befriending each other through past rescue work. Some of our volunteers are new to working with border collies, while some possess over a decade of experience with Border Collies. We work extensively with many other Border Collie and all breed rescues. For more information, visit https://www.allbordercollierescue.com.
About Fosters of Blisswood:
Fosters of BlissWood is a non-profit 501(c)3 organization formed to help with the expenses associated with fostering dogs rescued through All Border Collie Rescue, also a 501(c)3 group. To learn more, visit http://www.fostersofblisswood.com.