Author Literally Writes the Book on Band Nerds
The phazelFOZ Company, LLC is happy to announce the release of "BAND = LIFE," an omnibus of the popular Band Nerds Book series by The 13th Chair.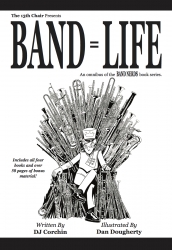 Chicago, IL, October 30, 2017 --(
PR.com
)-- The 13th Chair brings the humorously inspiring world of band and music education to the mainstream with "Band = Life."
The 13th Chair, also known as international award-winning author and illustrator DJ Corchin, has released an epic omnibus of his popular Band Nerds Book Series, "Band = Life." The 620 page hardcover is published by The phazelFOZ Company, LLC and is a collection of all four band nerds books plus bonus material including quotes, anecdotes, and additional illustrations by award-wining artist Dan Dougherty.
"'Band = Life' is the best band nerds book ever written. It's also the heaviest band nerds book ever written. It quite possibly is also the only band nerds book ever written," Corchin says with his signature humor.
"DJ must have been a fly on the wall of my band room for the last thirty years! He has mixed wit and wisdom into a trek through band memories. Enjoy and laugh. Remember. Be sure to take the time to see the many valuable lessons, too."
-Greg Bimm, Director of Bands (retired) Marian Catholic High School, Chicago Heights, IL
"DJ Corchin's book provides a rare, in-depth insight into our nation's band sub-culture, a medium that continues to provide emotional sanctuary for so many of our best and brightest young people."
-Dave Morrison, Illinois Teacher of the Year 2003 and Director of Bands (retired) Prospect High School, Mt. Prospect, IL
"Oh my…still laughing! I literally wanted to tear every other page out and plaster it on my colleagues' lockers or make it into a t-shirt. Some things about band never change."
- Amy McCabe, trumpeter/cornetist; "The President's Own" United States Marine Band
The Band = Life collection includes:
Band Nerds Poetry From The 13th Chair Trombone Player
The Marching Band Nerds Handbook
Band Nerds Confessions and Confusion
The Marching Band Nerds Awards
Over 50 pages of bonus material
The 13th Chair was created in 2006 after Corchin spent two and a half years on tour as a featured performer in the Tony and Emmy Award-Winning Broadway show "BLAST!" Best known as the "unicycling trombonist" he was able to meet and speak to thousands of students, parents and teachers from all over the world. Seeing the connections between them, he turned The 13th Chair brand into a call for music education advocacy through awareness, humor and inspiration. The Band Nerds Book Series has been celebrated by music education professionals, participants, and parents as relatable, hilarious, and touching.
"Band = Life" is available for sale internationally on Amazon.com, Barnes & Noble, direct from the publisher, and your local book stores.
For more information visit www.the13thchair.com
The phazelFOZ Company, LLC is an independent book publisher in Chicago, IL.
About the author:
DJ Corchin is a children's author and illustrator from Chicago, IL. His books often focus on socially conscious messages and have won several awards including the Eric Hoffer Award for Best Children's Book (A Thousand NO's), Mom's Choice Award- Gold Recipient (I Feel...Children's Book Series) and the Children's Literary Classic Award for Best Inspirational/Visionary Book (Mystical Rules For My Magical Daughter). A former music educator and featured performer in the Broadway show BLAST!, he continues to be a music education advocate through The 13th Chair brand.
Media contact: DJ Corchin, info@phazelfoz.com, www.phazelfoz.com
Contact
The Phazelfoz Company, LLC
DJ Corchin
847-971-3709
www.phazelfoz.com

Contact