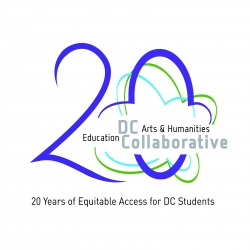 Washington, DC, October 30, 2017 --(
PR.com
)-- Wrapping up National Arts and Humanities Month, the DC Arts and Humanities Education celebrates its 20th anniversary, today, October 30th, working with its members and community stakeholders to advance equitable access to the arts and humanities for DC public and public charter school students and their educators. As the country's capital, the focus in Washington, DC is most often on national responsibilities and global impact. And the District of Columbia is where federal agencies and organizations shape and execute policy, where national associations and organizations have their headquarters, and where cultural organizations design and distribute content for the entire nation. However, Washington, DC is "The District," a place of neighborhoods, a local school system and unique communities with distinct needs.
More than Cherry Blossoms: A Forum on Local Education Programming in a National City is a DC Collaborative 20th Anniversary community conversation that is an opportunity to explore and discuss the unique opportunities and challenges of organizations in DC that serve both local and national constituencies. "Washington, DC is rich with world-class museums, dance, music and history that draw millions of tourists, yet so many of our youngest residents, our own DC students, may not get a chance to experience these cultural amenities, nor feel empowered to take full advantage of these resources in their hometown," said Lissa Rosenthal-Yoffe, executive director of the DC Arts and Humanities Education Collaborative. "DC Collaborative members large and small provide the best world-class arts and humanities education resources. Together, DC can be an exemplar arts and humanities education state, leading the way in showing how local government best invests in its rich cultural resources for tomorrow's educated citizenry." The DC Collaborative works closely with its members to advance, connect, and provide enriching arts and humanities field-trips to DC public and public charter schools​. Field-trips that its members produce are tied closely to classroom curriculum.
What does it mean to be a national organization in a local place? Today, Hear from Nik Apostolides, U.S. Capitol Visitor Center; Sarah Jencks, Ford's Theatre; Jeanette McCune, The John F. Kennedy Center for the Performing Arts; Gregory McGruder, National Geographic Society; and Barbara Stauffer, National Museum of Natural History. RSVP:
http://bit.ly/2irqTzH
Monday, October 30, 2017. Check-in: 3:30 p.m. Panel and Networking: 4-6 p.m.
Location: National Museum of Natural History- Q?rius, The Coralyn W. Whitney
Science Education Ctr. 10th St. & Constitution Ave. NW, Washington, DC 20560
The DC Collaborative is a Washington, DC-based non-profit that advances equitable access to high-quality learning opportunities in the arts and humanities for all DC public and public charter school students. Celebrating its 20th year, and in support of its 100+ cultural institutional members, the DC Collaborative believes that the arts and humanities, inclusive of music, visual arts, theater, dance, media arts, as well as languages and literature, and historical and philosophical inquiry into our past and human condition, are central to the education of every student.
About DC Arts and Humanities Education Collaborative
The
DC Arts and Humanities Education Collaborative
, together with its 100+ cultural intuitional members advocates and advances equitable access to high-quality learning experiences in the arts and humanities for all students and teachers in DC public and public charter schools. Since its founding in 1998, the DC Collaborative has served more than 600,000 public and public charter school students in all eight wards of the District of Columbia through its legacy program Arts and Humanities for Every Student (AHFES). As DC's back-bone support arts and humanities education membership organization, the DC Collaborative leads collective impact and community awareness initiatives, professional development opportunities for educators and convenings and networking for DC's arts and humanities education stakeholders. For information on how you can support Arts and Humanities for Every Student (AHFES), and the DC Collaborative's collective impact work, please visit
http://www.dccollaborative.org
For More Information:
Lissa Rosenthal-Yoffe
Executive Director, DC Collaborative
412-952-6017
(c) or
202-470-6467 x3
Lissa@dccollaborative.org