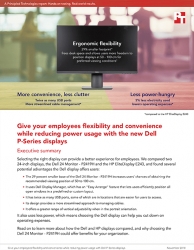 Durham, NC, November 15, 2018 --(
PR.com
)-- There's more to selecting the right monitor for employees than the dimensions of the screen. A monitor's design and features can contribute to a work experience that is ergonomically appropriate and convenient.
Principled Technologies compared two 24-inch displays, the Dell 24 Monitor - P2419H and the HP EliteDisplay E243, with the goal of understanding how their physical properties can affect the user experience.
The report states the following about the Dell display: "Its base is 29 percent smaller, which lets it fit more comfortably on a smaller desktop and gives users a better chance of achieving the optimal viewing distance. In portrait orientation, it offers a greater range of vertical adjustability than the HP display. The Dell display also boasts twice as many USB ports and a more elegant approach to cable management that reduces visual clutter."
To learn more about the findings of this study, read the report at
facts.pt/w1z6w0
.
About Principled Technologies, Inc.
Principled Technologies, Inc. is the leading provider of technology marketing and learning & development services.
Principled Technologies, Inc. is located in Durham, North Carolina, USA. For more information, please visit
www.principledtechnologies.com
.
Company Contact
Principled Technologies, Inc.
1007 Slater Road, Suite #300
Durham, NC 27703
press@principledtechnologies.com