Principled Technologies Publishes Report Explaining How Choosing Newer Intel Xeon Processors for an IBM Cloud and VMware Cloud Foundation Solution Can Help Ecommerce Data
In hands-on testing, Principled Technologies (PT) found that choosing Intel Xeon processors E5-2650 v4 for VMware Cloud Foundation on IBM Cloud can help businesses process more transactional database orders per minute than a similar solution powered by Intel Xeon processors E5-2650 v3.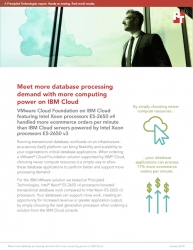 Durham, NC, January 12, 2018 --(
PR.com
)-- When Principled Technologies tested the online transaction processing capabilities of two IBM Cloud and VMware Cloud Foundation solutions, they found that the solution with newer Intel Xeon processors supported a 17 percent boost in database work. Databases that can support more work can create an opportunity for an organization to increase revenue or satisfy more customers. According to the report, "An increase in [database work] can be helpful for ecommerce customers and businesses. Ecommerce applications that can handle more activity (searches, logins, and purchases) can lead to more satisfied customers and more revenue."
For more information on how companies can help boost their ecommerce databases by choosing newer Intel Xeon processors for a VMware Cloud Foundation solution supported by IBM Cloud, read the full report at
http://facts.pt/Snhy3W
.
About Principled Technologies, Inc.
Principled Technologies, Inc. is the leading provider of technology marketing and learning & development services.
Principled Technologies, Inc. is located in Durham, North Carolina, USA. For more information, please visit
PrincipledTechnologies.com
.
Contact
Principled Technologies, Inc.
Chloe Rockow Madsen
(919) 941-9812
http://www.principledtechnologies.com/

Contact