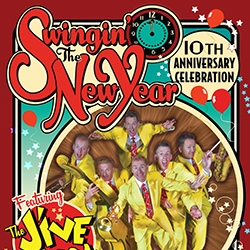 St. Petersburg, FL, November 08, 2017 --(
PR.com
)-- New Year's Eve - Sunday December 31st 2017 - Swingin' the New Year, a grand New Year's Eve celebration for all ages, happens at the spectacular St. Petersburg Coliseum, featuring UK swing sensations, The Jive Aces. This will be the 10th Anniversary Celebration for Swingin' the New Year, which is Florida's biggest swing dance event, attracting over 1,000 celebrants, dancers, and music lovers each year. Not just for couples, this celebration also brings lots of singles, groups of friends, families, and more...however people make it, they have a great time!
Swingin' the New Year includes live music, dancing and celebration 9pm-1am, plus an intro swing-dance lesson 8-9pm (no partner needed); doors open 7:30pm. The celebration features a midnight countdown & balloon drop, a vintage fashion photo shoot & contest, party favors & chocolates, prize giveaways, free parking, and a full cash bar with champagne bottles and toasts available. The St. Petersburg Coliseum provides historic swing-era ambiance, a smoke-free atmosphere, and an unparalleled 15,000 square foot oak dance floor. Dress to impress! New Year's and vintage attire are encouraged. Tickets are $30 by December 10th or $35 after December 10th. Group discounts are available for parties of 10 or more, and VIP Alcoves are available for parties of 20 or more. The St. Petersburg Coliseum is located at 535 4th Ave. N., St. Petersburg FL 33701. For tickets or more information, visit www.NewYearSwing.com, phone 813-220-3911 (Swing Time) or 813-579-4645 (Swing Gang). Swingin' the New Year is produced by Swing Time and Swing Gang.
The Jive Aces - Swingin' the New Year proudly presents - all the way from England - The Jive Aces! Having become the first band ever to reach the semi-finals of Britain's Got Talent, following up with a performance for Her Majesty The Queen, The Jive Aces have truly established themselves as the UK's top swing band. The band are renowned for their hot, swinging music and high-energy stage show. The Jive Aces have brought the house down at thousands of festivals, theaters, and dance halls throughout the UK, Europe, the USA, and beyond, also making hundreds of TV and radio appearances world-wide, and recording over a dozen albums. Their virally successful music video, Bring Me Sunshine, has clocked over 3 million views online and landed them seven film festival awards.