MVP Plant Named Finalist for Plant Engineering's 2017 Product of the Year
CMMS Data Group's Flagship Product Announced as a Maintenance Software Category Finalist.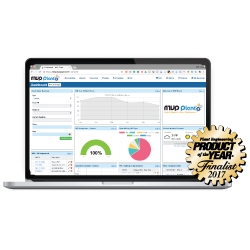 Chicago, IL, November 10, 2017 --(
PR.com
)-- CMMS Data Group's flagship product, MVP Plant Computerized Maintenance Management System (CMMS) software, has been selected as a finalist for Plant Engineering's 2017 Product of the Year. MVP Plant's largest and most expansive release will compete in the Maintenance Software category.
The Product of the Year program focuses on new products which have been released or had a new release within the last year. The program opens voting to qualified readers, who ultimately determine the winners from each category. Plant Engineering will announce the winners online (April 2, 2018) and feature them in their May 2018 print issue. They will also be recognized at the annual Engineering Awards in Manufacturing Dinner which will take place on May 16, 2018, in downtown Chicago.
"Our priority is listening to customers and as a result, the biggest-ever release of MVP Plant was created to not only to fulfill their requests, but to take advantage of the latest, most powerful technologies. Today, MVP Plant remains cutting-edge and customers experience, first-hand, the technological expertise of our Development Team and the exceptional support of our Professional Services Group," says Ruth Hughes, Founder and CEO of CMMS Data Group.
Released on June 25, 2017 (for cloud-based users), MVP Plant's new version capitalizes on the latest browser technology, including responsive web design, to provide users with increased functionality on all devices. Bigger text, larger buttons, and checkboxes make it even more touch-friendly. Additionally, the new version boasts faster speeds, increased user-friendliness, multi-language capability, unlimited scrolling, and many other enhancements.
About Plant Engineering's Product of the Year Program
Plant Engineering's Product of the Year (POY) program is the premier award for new products in the manufacturing and non-manufacturing industries. The annual reader-choice program provides Plant Engineering's audience with information about the top new product in their fields.
About CMMS Data Group
CMMS Data Group, founded in 2000, is the market leader in CMMS software and services, providing time- and money-saving solutions to Maintenance, Facilities, Reliability, and Inventory professionals to not only increase reliability, productivity, profitability, and customer satisfaction, but to make their jobs easier. Led by MVP Plant™ CMMS software, the company's portfolio also includes MP2™ CMMS software services and add-ons, and MVP Capture™, an online and offline mobile CMMS solution.
For more information, please visit us at: https://www.cdg.com.
Contact
CMMS Data Group
Nick Kissel
(312) 957-8575
www.cdg.com

Contact