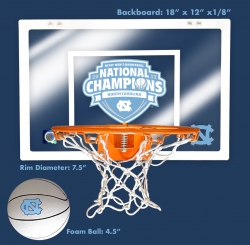 Chapel Hill, NC, November 11, 2017 --(
PR.com
)-- Welcome back to the NCAA Basketball Champion Tar Heels! College Championship Slam (CCS), a partnership headquartered in Arizona, where the team captured the NCAA basketball championship earlier this year, has released a limited-edition UNC-branded basketball backboard, hoop and ball to commemorate their victory. This first-ever backboard licensed by the Collegiate Licensing Company (CLC) is available online at
www.collegechampionshipslam.com
, and will be distributed locally through a Charlotte-based distribution center.
"As the UNC Tar Heels commence their NCAA title defense, fans can commemorate the occasion with this one-of-a-kind item," said Vada Manager, the Business Development Director for CCS. "Given we are an Arizona-based company and many of our CCS partnership attended the Final Four™ game in April, we are proud to have our first basketball memorabilia product commemorate UNC's victory."
"Since this is a limited-edition product, it will be valued by both avid fans and collectors," said Denise Meridith, CCS Marketing Director. "The Tar Heel-logoed backboard and ball is great for family or dorm rooms, offices, sports bars, restaurants, fraternity and sorority houses, anywhere fans want to relive the glory."
World Key Services, Inc., which is located in Washington State and is designing and manufacturing the backboards, provides design, prototyping, sourcing and full production management for small to mid-size international product manufacturers. WKSI' Owners Judy Mullins and Mary Gustaff, with 30 years of experience, including being awarded Disney's coveted Vendor of the Year Award for two years in a row, said, "We are really excited to use our skills and expertise to design new types of products, like this NCAA Championship backboard, that will help fans remember the joys of winning."
Other members of the small, talented CCS group include Vic Mason (who invented the popular Monster Slam game in the 1990's) and Rich Calta, who are partners in VM&RC Enterprises, a Scottsdale-based toy company. VM&RC was awarded the backboard license by the Collegiate Licensing Company (CLC), the trademark licensing affiliate company of IMG College, which has been "the leader in connecting passionate college fans to their favorite college brands for more than three decades." CLC represents approximately 200 colleges and universities.
To order the NCAA Champion Tar Heels backboard, which will only be available for a limited time this year, people can go to the website www.collegechampionshipslam.com. CCS plans to produce other commemoratives to tantalize sports fans around the country in the future.