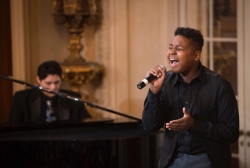 Phoenix, AZ, November 23, 2017 --(
PR.com
)-- Phoenix Conservatory of Music's College Prep Program serving the Phoenix Metropolitan Area cited as one of the best creative youth development programs in the country.
At a special ceremony in Washington, D.C. this November, the nation's federal cultural agencies honored twelve Creative Youth Development programs from across the country for their work in providing excellent arts and humanities learning opportunities to young people.
Three of Phoenix's own students had the honor of traveling to our Nation's Capital to represent Phoenix, Arizona and a top after school arts program, Phoenix Conservatory of Music's College Prep Program. Marcus Wolf (17), Michael Rodriguez (15) and Lourde Childs (13), were the student representative and performers for The Phoenix Conservatory of Music as it was recognized with a 2017 National Arts and Humanities Youth Program Award. Michael and Lourde, the only two performers for this prestigious Washington D.C. awards ceremony, performed for the heads of our Federal Arts and Humanities Agencies. They performed Man In The Mirror recorded by Michael Jackson, written by Glen Ballard and Siedah Garrett; produced by Quincy Jones, and received a standing ovation. (Video of the performance: https://youtu.be/QXC2YNMWLVQ?t=30m35s)
The award honors the nation's highest best programs for after school arts and humanities programs. Chosen from 350 nominations from across the country, PCM, was one of twelve organizations across the country to receive the honor, which recognizes effectiveness in promoting learning and life skills in young people by engaging them through creative youth development programs.
"Phoenix is home to an incredible arts community, and organizations like the Phoenix Conservatory of Music are key to the city's cultural vibrancy," Phoenix Mayor Greg Stanton said. "This award is testament to the great work PCM is doing to expose children in our community to the arts and music education."
The award is the latest recognition to highlight the Conservatory's work with students. Earlier this year, Phoenix Conservatory of Music was a recipient of the 2017 Mayor's Arts Awards for Innovative Organization of the Year, and in 2015 received the Arizona Governor's Arts Award for Arts Education Organization.
First presented in 1998, the 2017 National Arts and Humanities Youth Program Awards were presented through a partnership between the National Endowment for the Arts (NEA), the National Endowment for the Humanities (NEH), and the Institute of Museum and Library Services (IMLS), in cooperation with the National Assembly of State Arts Agencies (NASAA).
"This award highlights what we already know, that Phoenix has an amazing arts and culture community that deserves a national stage, with programs that give students the skills to achieve their dreams," said Phoenix Vice Mayor Laura Pastor, chair of the city's Parks, Arts, Education and Equality Subcommittee. "The Phoenix Conservatory of Music provides essential support and encouragement of students' creativity and self-expression, something most young people can't get during the regular school day."
In its nineteenth year, the award has recognized 285 after-school and out-of-school-time programs for achieving a wide range of outcomes in the lives of children and youth, often from underserved communities across the country. Among the outcomes generated by these programs are higher grades and graduation rates, increased college attendance rates, and skill development ranging from collaboration and critical thinking to leadership and confidence.
Please join us in congratulating this year's award-winning programs:
Brick x Brick, Pérez Art Museum Miami (PAMM) in Miami, FL
Confident Voices, SAY: The Stuttering Association for the Young in New York, NY
Cool Classics! in Chicago, IL
Creative Readers, Port Washington Public Library in Port Washington, NY
Destiny Arts Youth Performance Company, Destiny Arts Center in Oakland, CA
High School Apprenticeship Program, New Bedford Whaling Museum in New Bedford, MA
MAPS Media Institute, The Irwin and Florence Rosten Foundation, Inc. in Hamilton, MT
Newark Museum Explorers, Newark Museum in Newark, NJ
Phoenix Conservatory of Music's College Prep Program, Phoenix Conservatory of Music in Phx, AZ
Teen Innovators at BLDG 92, Brooklyn Historical Society in Brooklyn, NY
The Penguin Project, The Penguin Project Foundation, Inc. in Peoria, IL
The Summer Performing Arts Company, Grand Forks Public Schools in Grand Forks, ND
International Spotlight Honor
MASC Awesome Arts, MASC (Multi-Cultural Arts for Schools and Communities) in Ottawa, Ontario, Canada
About Phoenix Conservatory of Music:
Phoenix Conservatory of Music provides a continuum of high quality music education and experiences to hundreds of students annually, with programs ranging from introductory level in-house education programs and after school programs to more advanced private lessons and the most prestigious College Prep Program for contemporary music education in the state: The Berklee College of Music's City Music Network and P.U.L.S.E. programs. They are a non-profit organization whose mission is to provide quality music education that is affordable and accessible. They receive contributed income to make sure that all students have access to music education, regardless of their socio-economic status and were granted status as a Qualifying Charitable Organization for the Arizona State Tax Credit. Since the inception of PCM's College Prep Program in 2010, the program is providing a pathway for students to achieve their dreams- one note at a time. With 3-10 hours per week of low to no cost engagement, the organization provides students 4-12 grades with private music lessons, music theory classes, enrichment classes and Popular Music Ensembles. They have a 95% graduation rate (compared to an 86% in the local community and a 77% in the state), 71% go on to college or university, 43% of those students are studying music or music related fields, and they have earned more than $1 Million Dollars in Scholarship Offers.
For more information about Phoenix Conservatory of Music, visit our website at https://www.pcmrocks.org or call 602.353.9900