Unplug This Holiday; Enter to Win Madison & Mulholland's Bedside Reading Books of 2017
Madison & Mulholland's Holiday Gift Giveaway Enter to Win 2017 Best Books of the Season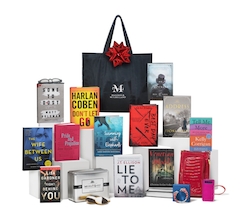 Stamford, CT, November 28, 2017 --(
PR.com
)-- Madison & Mulholland's Bedside Reading™ program is offering one lucky person a chance to win the 2017 Holiday Gift Bag of Books and other gifts. Total Retail Value $639.
With sixteen years of curating and placing books in hotels throughout the Hamptons and now with the Bedside Reading program which places books by the bedside in 5-star luxury hotels, Madison & Mulholland reveals it's favorite books of the season.
Enter to Win Their Holiday Gifts & Books (in alphabetical order)
Best Day Ever by Kaira Rouda, Don't Let Go by Harlan Coben, Gone to Dust by Matt Goldman, Lie To Me by JT Ellison, Mr. Dickens and his Carol by Samanta Silva, Pride & Prejudice by Jane Austen (Word Cloud Classics), Right Behind You by Lisa Gardner, Swimming with Elephants by Sarah Bamford Seidelmann, Tell Me More by Kelly Corrigan, The Address by Fiona Davis, The Wife Between Us by Greer Hendricks and Sarah Pekkanen, Venetian Blood: Murder in a Sensuous City by Christine Volker and a few additional gifts from BigBanglesTheory.com, FreshBakedNY.com and Madison & Mulholland.com
One lucky person will be chosen on Dec. 20, 2017. Free Shipping
View the entire collection and enter to win
BedsideReading.com
About:
Madison & Mulholland has been placing bestsellers by the bedside in hotels throughout the Hamptons via their award-winning Hampton Gift Bag Program since 2002. This Fall, the company expanded their reach to include select five-star luxury hotels across the country. The nationally acclaimed Bedside Reading™ program is pleased to be partnering with world-leading publishers as well as independent publishers. Madison & Mulholland's goal is to provide the hotels' guests the opportunity to "unplug" and delve into the world of words at some of the most sought-after destinations in the US.
Contact
Madison & Mulholland
Jane Ubell-Meyer
917-848-3353
www.bedsidereading.com

Contact