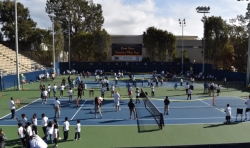 Compton, CA, December 01, 2017 --(
PR.com
)-- On Monday, November 27, over 300 students from 14 elementary schools across Compton Unified School District descended upon the beautiful UCLA Tennis Center, ready to show off their tennis skills and receive some pointers from one of the best, tennis star Sloane Stephens.
This "PlayDay," hosted by the tennis pro, was a culmination of Love, Love Compton, an eight-week after-school tennis program held on each of the 14 campuses and sponsored by the Sloane Stephen's Foundation. With the help of volunteers from the United States Tennis Association and the UCLA Club Tennis Team, the CUSD students had the opportunity to fine tune their serving skills and enjoy other fun, skill-building activities such as "hopscotch relay."
Even Compton Unified School District Superintendent Darin Brawley had the opportunity to receive some tennis pointers from and test his skill with, the winner of US Open Women's Championship.
Ms. Stephens started the Love, Love Compton program because she wanted to introduce youth in Compton to the sport she loves while making sure that "the first time they pick up a racket is enjoyable and fun!"
Many students received prizes such as soccer balls, and sports gear donated entirely by Sloane Stephens, and all students were treated to a t-shirt and gift bags.
Participating Schools:
Washington Elementary
Jefferson Elementary
Mayo Elementary
Emerson Elementary
Roosevelt Elementary
McKinley Elementary
Clinton Elementary
Dickison Elementary
Kennedy Elementary
Bunche Elementary
Longfellow Elementary
Tibby Elementary
Anderson Elementary
King Elementary
Contact: Melissa R. Franklin, 310-946-7805