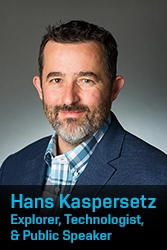 Summit, NJ, December 06, 2017 --(
PR.com
)-- Arteric is a healthcare digital marketing agency that's been demystifying leading-edge technology and making it practical for healthcare marketers for two decades. On December 6, Arteric's Hans Kaspersetz continued this effort when he explained how to apply artificial intelligence (AI) to uncover hidden market insights at Medical Marketing and Media's NextGen Data and Analytics workshop.
During a Rapid Fire session titled "Artificial Intelligence — Super Hearing for Healthcare Marketers," Mr. Kaspersetz, Arteric's chief operating officer and chief strategist, shared two quick case studies that illustrate actionable insights that emerge from deep analysis of readily available digital marketing data utilizing commercially available AI latent semantic analysis APIs.
AI is rapidly growing in importance for digital marketers. Mr. Kaspersetz explained, "The rapid migration to voice-driven online search has increased the volume and complexity of data that analysts must evaluate to extract marketing insights. There are limitations to the depth and breadth of data that humans can analyze. The speed and flexibility of AI are ideally suited for this challenge."
The scalability of AI enables analysts to detect audience needs and customer behaviors that evade human analysis. But marketers must take several practical steps for AI to succeed. As Mr. Kaspersetz described, "Arteric's AI solution uncovered hidden audience conversations that enabled our client, a market leader in OTC cold remedies, to develop a new demographic-specific campaign strategy. But this was feasible only because the brand had been aggregating and safely storing their marketing data for years. This is one of the key practical elements of AI success that I'll discuss during my session."
Kisha Allison, a conference producer for the NextGen conference, considers AI an essential component of the meeting's agenda. "MM&M's NextGen Data & Analytics event will help healthcare marketers develop the acumen to grasp new algorithms, and understand how next-gen analytics, including applications of AI, can support pharma commercial operations for brand marketers seeking to better understand the needs of patients and providers. MM&M is pleased to feature Hans Kaspersetz from Arteric, who will deliver one of our sponsored sessions. Hans's session will help our healthcare audience prepare their brands for the new strategic realities that voice-driven search creates and for the personalization opportunities that AI generates."
Those who can't attend the MM&M program but wants to learn about AI for healthcare marketers can
read about Arteric's work with AI and listen to Mr. Kaspersetz on Life Science Marketing Radio
.
For two decades, Arteric has empowered healthcare brands and marketing communication teams to anticipate and execute on dramatic shifts in digital technology, transforming them into competitive advantage. Contact Hans Kaspersetz at 201.546.9910 to discuss how to apply AI to maximize the impact of your brand.
About Arteric
Arteric is a healthcare digital marketing agency built on a foundation of technology expertise — digital strategy, software engineering, search engine optimization, and search engine marketing. Arteric develops the strategy and software — websites, mobile apps, and Web applications — that drive pharmaceutical and biotechnology digital marketing campaigns and connect the patients, caregivers, and healthcare professionals with information about life-changing therapies, technologies, and devices.