In-Gauge of Polk County Announces Church - Guardian Training
Armed Guardian Training for faith based organizations - Because we are no longer safe in our places of worship.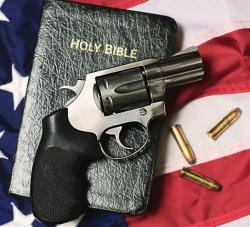 Lakeland, FL, December 20, 2017 --(
PR.com
)-- In-Gauge of Polk County announces its Guardian Training program for faith based organizations.
In-Gauge of Polk County, a private, non-profit, NRA affiliated organization, is offering both basic and advanced level firearms training for those who wish to no longer be sitting ducks in the places they worship, and wish to defend themselves, their loved ones or members of their congregation.
In-Gauge of Polk County's Guardian Training is worship center based, where a guardian may be confronted by an assailant or multiple assailants in a crowded, close-quartered environment.
Training includes:
- Environment safety assessment
- Situational awareness
- Mental preparedness
- Psychological consequences
- Defensive firearm familiarization and selection
- Concealed carry techniques
- Drawing and firing from a concealed carry holster
- Selecting and utilizing cover and concealment
- Confronting and dealing with single and multiple armed assailants
- Extensive live-fire range training under direct instructor supervision
All training is conducted to nationally recognized NRA standards and official NRA certificates of training are issued upon successful completion.
In-Gauge of Polk County's Guardian Training is unique, not known to be duplicated anywhere in the southeastern United States. In addition, no other known entity provides nationally recognized, official NRA, advanced level, concealed carry firearms training and certification.
Training classes begin January 2, 2018. Individual participation and group training packages are available. Private group training classes can be scheduled.
Training is conducted in centrally located Winter Haven, Florida. Ample, low-cost lodging is available for out-of-town training participants.
For further information, visit the In-Gauge of Polk County website, email them or call: 863-206-1996
Contact
In-Gauge of Polk County
Pat Edwins
863-206-1996
http://www.ingaugeofpolkcounty.com

Contact
Multimedia
Having a concealed carry weapons license only permits one to carry a firearm in public. It is not a measure of qualification to carry a deadly weapon in public nor offers protection against civil liability.