Worldwide Business with Kathy Ireland®: See EDI Gateway Introduce Their Suite of Electronic Data Interchange Solutions and Services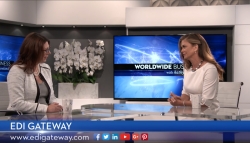 Montreal, Canada, January 03, 2018 --(
PR.com
)-- Worldwide Business with Kathy Ireland® is pleased to announce an exclusive interview with Sophie Barbara Desilets, President of EDI Gateway, Canada's leading EDI provider.
Founded in 1993, EDI Gateway is a leading North American service provider who has been helping small to medium size companies become EDI compliant and e-commerce capable. Specializing in EDI and B2B applications, EDI Gateway is uniquely positioned to offer an array of EDI solutions and services, both standardized and customized, to accommodate the evolving needs and demands of today's diverse e-market. Gold Certified Microsoft partner, servicing over 2500 customers and more than 7,000 trading relationships in the retail, pharmaceutical, grocery and hardware industries, EDI Gateway provides complete EDI solutions that guarantee compliance with all EDI and supply chain requirements, through a cost-effective and reliable EDI implementation process. Headquartered in Montreal, Canada, EDI Gateway has been collaborating in a consortium, with various key players servicing the Retail industry, to offer a one-stop, one path solution.
According to Desilets, EDI Gateway's role as a pioneer in the EDI space in Canada enabled the company to expand naturally into the United States. She explains, "Today, we exchange millions of EDI transactions and we have developed software and tools that address the specific needs of every retailer and their supply chain communities. Our entry into the US market was a natural step for us in our growth strategy."
JL Haber, Vice President of Programming for Worldwide Business with Kathy Ireland®, is delighted to feature EDI Gateway. He says, "When it comes to EDI solutions, no company does it quite like EDI Gateway. This super-savvy company provides streamlined integration of the most cutting-edge EDI solutions out there. To put it simply, EDI Gateway's unparalleled managed services are the best the industry has to offer. We're so proud to have EDI Gateway on our show."
For more information about EDI Gateway, visit www.edigateway.com and tune in to Fox Business Network as sponsored content on Sunday, January 7, 2018 at 5:00pm EST and Bloomberg International at 7:30am GMT and 10:30am D.F. and on Sunday, January 28, 2018 at 2:30pm HKT.
About Worldwide Business with Kathy Ireland®
Worldwide Business with kathy ireland® is a weekly half-hour show featuring global executives sharing their business insights and framing the opportunities shaping their industries. Hosted by business mogul and one of the world's greatest corporate leaders, Kathy Ireland interviews some of the brightest minds in business today. The show broadcasts on Fox Business Network as part of their sponsored content line up and globally on Bloomberg International. Worldwide Business with Kathy Ireland® extends beyond the weekly on-air program with digital content delivered on various video platforms and across social media.
Visit www.tvwwb.com for detailed airing schedules or check local listings.
Contact
EDI Gateway
Sharon Barr
514-341-5000
www.edigateway.com

Contact