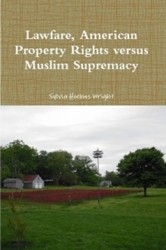 Henrico, VA, January 17, 2018 --(
PR.com
)-- "Many communities are stymied by Islamist cultural schemes in concert with political Left's attacks on citizens who defend American traditions and constitutional principles," says Karen Lugo, an attorney with extensive experience in First Amendment constitutional law.
Wright's book - "Lawfare, American Property Rights versus Muslim Supremacy" - documents such an attack, criminal and civil court proceedings based more on a political agenda, than, theology or laws and regulation. As observed by others:
"Protecting religious freedom does not mean permitting people to violate the law in the name of religious freedom. Religious freedom remains freedom to believe, but not a freedom to act in violation of facially neutral laws. For many years people defended racist laws as being required by their religion. But religion should not grant one the right to ignore the law. Jefferson advised us that if a neutral law required action that violated a person's religious belief that person had to abide by the law. We are a nation of laws after all," says Christopher Peace, delegate Hanover County for VA General Assembly.
"Any adverse decision reached by a jury trial is not a victory for freedom of religious practice. Instead, it is a victory for lawfare tactics by local Muslim leadership at the Islamic Center of Richmond who seek to create a Sharia compliant enclave at the cost of local residents in Hoehns Lakeview Farms," says Jerry Gordon, author for New English Review.
"I challenge you to acquire an understanding: learn why a peaceful quiet life-style has changed in Sylvia's beautiful part of an otherwise crazy world," says Shu Bartholomew, radio host and producer for On The Commons heard on Cox Cable.
About the Author
Sylvia Hoehns Wright, the present-day caretaker for her family's 7th generational property, credits the legacy of a rural Virginia childhood and Quaker lifestyle belief - view self as caretaker, not owner of property as the source of a commitment to protect her family's generational property.
Presently, the Advocacy for Economic Freedom has joined Wright's effort to recover and ensure stability of her rights. For details of Wright's experience, acquire a copy of Lawfare, American Property Rights versus Muslim Supremacy at
Sylvia's publisher
or view video Living in Fear or review GoFundMe – Hoehns Lakeview Farms. Educate yourself; and then, make a choice to "stand with," join Wright and her community in their effort to hold governmental leaders accountable.
Side Bar: Product Details – Lawfare, American Property Rights versus Muslim Supremacy ISBN9781387134540 Copyright Sylvia Hoehns Wright (Standard Copyright License), Edition First Edition, PublisherLulu.com, Published August 20, 2017 Language English, Pages102 Binding Perfect-bound Paperback Interior Ink Black & white, Weight0.45 lbs. Dimensions (inches) 6 wide x 9 tall