Fit Girl Festival at Retreat Malibu - Starting the New Year with the Ultimate Health & Wellness Lifestyle Experience
Start the new year at Fit Girl Festival at Retreat Malibu from 9am to 9pm on Saturday, January 13, 2018. Viewers around the globe will also be able to watch it live online thanks to KNEKT TV.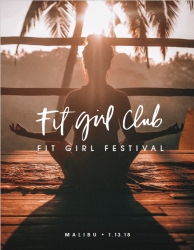 Los Angeles, CA, January 13, 2018 --(
PR.com
)-- The award winning live streaming and broadcast production company KNEKT TV will be working with Fit Girl Club LA and sought-after wellness business consultant Leah Harper Marsh to produce a live broadcast of the Fit Girl Festival in Malibu Saturday January 13th, which will be led by some of LA's most sought-after fitness teachers.
Audiences with Apple TVs & Rokus will be able to watch the performance free on the Fit Girl Club LA Channel on the KNEKT TV Network. Under the Digital Management of June Media Consulting, the event will be streamed live to digital platforms such as Facebook and YouTube.
Fit Girl Festival will attract over 200+ Mindful, Health-Conscious, Engaged Attendees who seek the ultimate Health and Wellness Lifestyle Experience. Over the course of one day, Fit Fest attendees and Fit Girl Club members will take part in fitness classes, lawn games, shopping and wellness treatments in a serene retreat life setting. All the fitness and wellness-lovers around the Globe are invited to tune in via the live broadcast on KNEKT TV. As the Malibu sun sets, the festival becomes an open co-ed Veggie-Q with live music and lawn activities to close out the event community, good food and great music.
"Fit Girl Club is a community of women that get together to work and work out! It gives me such joy to connect like-minded people in health and business and I am so excited to be part of KNEKT family so that we can continue to share knowledge that will help or inspire someone to get active or motivated to try or learn something new," says Leah Harper Marsh (@leahhmarsh).
"We are featuring 12 fitness classes including teachers Holly Holton, Andrea Bogart and Melissa Eckman; 3 workshops including Cassandra Bodzak; 3 panels including Tara Mackey, Sophie Jaffe and Kip Anderson."
KNEKT TV is honored to work with Leah Harper Marsh, who is regarded in the Los Angeles' health and fitness world for curating can't-miss events, cutting-edge workshops and new classes with some of the most recognized yoga and fitness instructors in the country; and to welcome Fit Girl Club LA as a Channel on the KNEKT TV Network, which will be focusing on content like Free Fitness & Wellness Classes with Variety of Teachers, Interviews with Business Women, Meal Prep Demos with Expert Guests.
"We are very excited to bring and open up the world of the Health and Wellness Lifestyle Experience with Fit Girl Festival to the online community of fitness-lovers and help everyone who is in need of some fitness motivation or inspiration trough the live broadcast," says Elisabeth Recheis, Multimedia Expert at KNEKT TV. Recheis, in her critical role as a Multimedia Expert, with her outstanding abilities, knowledge and influential voice on social media has become absolutely essential for the continuing success of KNEKT TV.
"Speaking for the whole KNEKT TV Team, I can say we truly are excited for the future of the KNEKT TV Network. We are lucky to have Elisabeth Recheis in her leading role as a Multimedia Expert and Content Creator for our upcoming live events from Fit Girl Club and our other Channel Partners on KNEKT TV... For example the scheduled #MakeItAwkward Inclusivity Summit Feb. 1-3, 2018," says Kent Speakman CEO & Producer of KNEKT TV. The #MakeItAwkward campaign aims to create "everyday activists" by encouraging people to confront - respectfully - those who make hateful or racist comments.
KNEKT.tv is focused on improving the world by connecting audiences with shows that inspire, and bring awareness to social causes as well as enhancing and enriching the lives of its viewers with informative health and wellness content. Blending celebrity advocates and luxurious locations around the world to peak the audiences interest has connected millions of viewers to experiences and issues. Exclusive live videos and red carpet appearances are directly or indirectly bringing awareness to issues spanning Animal Rights, Human Slavery, Children's Welfare, Sex Trafficking, obesity, mental health and many, many more.
To watch the show live, visit
www.KNEKT.Live
and sign up for live notifications.
Contact:
Elisabeth Recheis
MultiMedia Expert - KNEKT.tv
(805) 635 - 8123
1010 Wilshire Blvd.
Los Angeles, CA 90017
About Fit Girl Club LA
Fit Girl Club is an online community of 3,500+ women that come together for fitness and lifestyle events in and around Los Angeles. Since 2015, Fit Girl Club has enjoyed organic and steady growth thanks to its unique community approach of bringing fitness to the community through personal referrals.
FitGirlClub.com (www.FitGirlClub.com | @FitGirlClubLA @FitGirlFestival).
About KNEKT TV
KNEKT.tv is a Los Angeles based live production company producing world class live and pre-recorded HD broadcasts from exclusive events, concerts, performances, charity galas, fundraisers and red carpet shows. Clients & partners range from top charting recording artists to Fortune 500 Companies and charities. KNEKT provides cutting edge HD live broadcasting services as well as non-broadcast recorded content, feature film and television production. KNEKT partners with agencies, brands and event producers to create the next level of fully integrated branded entertainment content, on premise activations, and in-video stream advertising during our live and pre-recorded television events.
KNEKT.tv (www.KNEKT.tv | @KNEKTtv).
Contact
KNEKT
Elisabeth Recheis
805.635.8123
www.KNEKT.tv

Contact