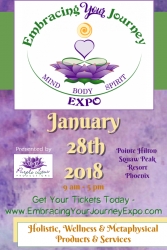 Phoenix, AZ, January 16, 2018 --(
PR.com
)-- The new year is a time for many people to make some positive changes in their life and lifestyle. They are ready for some new knowledge and experiences. For the fourth year the Embracing Your Journey Expo presented by Purple Lotus Productions is there at the right time. The family friendly event is about bringing people together on their path of discovery. People who are interested in alternative ideas and a healthier lifestyle can bring family and friends to explore new modalities, new products and meet practitioners altogether in one place on one day.
Rory from Phoenix says, "I have attended many expos in the past, Embracing Your Journey Expo is a well organized and attended, as well as attentive, experience. Many practical, useful, and sensible products and advice from excellent practitioners."
Event attendees will find organic food offerings, hypnotherapists, nutritionists, yoga teachers, herbalists, energy healers, massage, health counselors, spiritual counselors, psychic mediums, Aura photos, crystals, Essential Oils, Angel, Palm & Tarot readings, Animal communication, Art, Jewelry, and more. With over 60 vendors offering a variety of Holistic, Wellness and Metaphysical Products and Services people are sure to find something new. In the 9600 s.f. Anasazi Ballroom there is plenty of space to explore without feeling crowded.
Kelly from Phoenix says, "I especially love the Embracing Your Journey Expos. The expos are filled with so much love and healing. I really appreciate PLP for holding such a magical space where so many wonderful healers and participants can come together and help to make this world a better place!"
Embracing Your Journey Expo is produced by Purple Lotus Productions, a mother / daughter duo - Erin McNamara and Robin Selby, started in 2009 offering one service has grown to become a "one stop shop" for all your Mind - Body - Spirit needs with a mission to help, support and encourage people.
Robin Selby of Purple Lotus Productions says, "We are passionate about providing you a trusted resource to find world renowned, skilled practitioners, new and innovative services as well as unique and original products. These family friendly events are open to everyone. Whether you are new to this journey of Mind-Body-Spirit growth and discovery, or are a long term traveler or just looking to see what is out there to be discovered we are here to help."
The Expo is held on Sunday January 28th 2018 9 am to 5 pm at the beautiful Pointe Hilton Squaw Peak Resort 7677 N 16th St, Phoenix, AZ 85020 Anasazi Ballroom.
General admission is $5 in advance, $8 at the door (kids 10 & under are free) and includes a selection of 8 free lectures designed to educate and inform, raffles every hour and the first 100 guests to arrive will receive a free gift bag with samples and offerings.
Jump-start your new year and learn, grow and discover at this event.
Info: http://www.embracingyourjourneyexpo.com/
Tickets: https://www.eventbrite.com/e/embracing-your-journey-expo-jan-28th-2018-tickets-39149280552?aff=es2