Say Yes to Circle B Ranch Bacon Snack Stick: Circle B Ranch Offers Healthy Alternative to Snack Sticks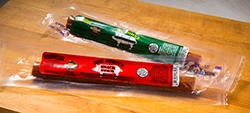 Seymour, MO, January 17, 2018 --(
PR.com
)-- Owners John and Marina Backes of Circle B Ranch, a small family farm has launched the "Say Yes to Circle B Ranch Bacon Snack Stick" campaign. The purposes of the project are to raise awareness of healthy snack alternatives, to contest confinement raising, and to gain funding for national marketing of the Circle B Ranch Bacon Snack Stick - the Backes' healthy nitrite-free bacon alternative to popular snack sticks.
Compared to other snack sticks the Circle B Ranch Bacon Snack Stick has a list of all-natural ingredients. Created from nitrite-free bacon and ground Berkshire pork, the Circle B Ranch Bacon Snack Stick contains no added fillers or preservatives and is gluten free. The stick does not contain added hormones or antibiotics, artificial flavors, high fructose corn syrup, or red dye, making the snack child friendly. Each one-ounce low-sodium bacon snack stick holds only 90 calories, 5 grams of protein, and no carbs or sugar. As well, Circle B Ranch claims the bacon stick is diet appropriate for a Paleo, Keto, Low Carb, or Whole 30 diet.
Every dollar contributed assists with producing Circle B Ranch's Bacon Snack Stick, helps support pasture-raising, and fights against confinement raising. Marina Backes said, "The immediate impact of expanding our farm would be in the local employment. Douglas County in Missouri has a very high unemployment rate, as well as a high poverty rate, and with the increase in production of our Bacon meat sticks, there would be a greater need for drivers and farm hands at Circle B Ranch." It would also help other industries such as the feed mill, farm supply, lumber yard, and marketing company as well as other support services in the immediate area. We are large supporters of local businesses and we would like to see the area grow.
If you would like to know more about the "Say Yes to Circle B Ranch Bacon Snack Stick" project or would like to contribute to the Backes' campaign for healthy snack alternatives, visit
http://bit.ly/2m2Capk
.
About Circle B Ranch: Since its humble beginnings in 2009, Circle B Ranch specializes in quality pasture-raised pork products. Against confinement raising, owners John and Marina Backes started their farm with the goal of bringing consumers healthy pork cuts from humanely raised animals. Circle B Ranch's "old-fashioned" method of raising heritage Berkshire Hogs - letting the animals roam and graze freely in open pasture - creates pork that is succulent and richer in vitamin D than pork obtained from confinement raised hogs.
Contact
Circle B Ranch, LLC
Marina Backes
417-683-0271
circlebranchpork.com

Contact