What's Better Than Winning a Mobile Website Design Award? Winning 2 Mobile Website Design Awards!
Arteric.com named Best Advertising Mobile Website and Best Interactive Services Mobile Website.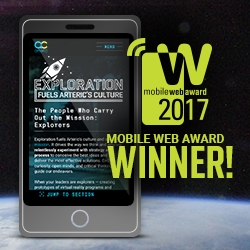 Summit, NJ, January 17, 2018 --(
PR.com
)-- The spotlight blazed on Team Arteric recently when the Web Marketing Association (WMA) announced that Arteric's corporate healthcare digital marketing agency website, arteric.com, won 2 coveted Best in Industry awards. The annual WebAward Competition is the premier annual website award competition, naming the best websites in 96 industries. WMA members include thought leaders from the worlds of Internet marketing, online advertising, public relations, and website design.
The panel of judges evaluated 7 criteria: creativity, impact, design, content, interactivity, ease of use, and use of the medium. Each mobile website entry was judged against entries in its industry category and then evaluated against an overall standard of excellence.
"Receiving a single accolade from a jury of talented peers is a tremendous honor. Winning awards in 2 categories filled with projects created by some of the most creative minds on the planet is a thrilling achievement," states Hans Kaspersetz, Arteric's president and chief strategist. "I challenged the team to create
a unique experience that was elegant in design, experience, and information value
. The team delivered in spades."
Ross O'Shea, creative director and vice president of marketing, explains the thinking that guided the award-winning design. "Arteric.com addresses the design challenges that healthcare marketers must overcome in a mobile-first world. Every piece of information and every essence of the user experience is maintained from the desktop to the smallest smartphone screen. Arteric.com will also thrive in a world where virtual, augmented, and mixed realities become the norm. The horizontal layout leverages background depth and is ready-made for 3-dimensional technologies. Sliding panels and a modular content strategy make long-form and short-form content quickly scannable and readable."
Mr. Kaspersetz sees a strong link between the awards and Arteric's corporate values. "A key element of Arteric's mission is to push the boundary of what's possible. Creating the new arteric.com brought out the best qualities in our team: inspirational creativity, bottomless courage, unstoppable drive, relentless commitment, and uncompromising quality. It's immensely gratifying to see their efforts rewarded by the creative community."
Over the course of two decades and multiple technology revolutions, Arteric has combined "what if" thinking with experience-driven insight to transform technology into business solutions for pharmaceutical brands and healthcare organizations. Contact Hans Kaspersetz at 201.546.9910 to advance your brand with leading-edge digital marketing solutions that work everywhere, every time.
About Arteric
Arteric is a healthcare digital marketing agency built on a foundation of technology expertise - digital strategy, software engineering, search engine optimization, and search engine marketing. Arteric develops the strategy and the software -websites, mobile apps, and Web applications - that drive pharmaceutical and biotechnology digital marketing campaigns and connect the public and healthcare professionals with information about life-changing therapies, technologies, and devices.
Reference
1. Mobile Web Award 2017. Web Marketing Association Web site. http://www.mobile-webaward.org/mwa/winner.asp?eid=11632.
Contact
Arteric
Ross O'Shea
201.546.9910
http://arteric.com

Contact