FCP Euro Enters Two Volkswagen GTI TCRs in The 2018 Pirelli World Challenge Season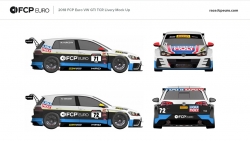 Milford, CT, January 19, 2018 --(
PR.com
)-- FCP Euro is proud to announce their entry of two Volkswagen GTI TCRs in the 2018 Pirelli World Challenge season. After a successful year sponsoring Rooster Hall Racing's BMW M235iR in the TC class with 2017 Rookie of the Year Anthony Magagnoli at the wheel, FCP Euro is looking to continue that success by campaigning their new Volkswagen GTI TCRs. Piloting the cars will be FCP Euro's own Michael Hurczyn, Marketing & Brand Director, and Nate Vincent, Director of Motorsport.
FCP Euro is an online retailer of Genuine, OE, and OEM auto parts for European cars, specializing in Volkswagen, Audi, BMW, Volvo, Mercedes, and Porsche parts. "We have been selling European auto parts online since 2001, and we are honored to put our FCP Euro brand on two TCRs in front of so many enthusiasts on a national stage," said FCP Euro President and Founder, Nick Bauer.
"Running a successful race team is not dissimilar to running a successful business - it takes great people and also great partners," said Scott Drozd, CEO of FCP Euro. "We are honored to partner with LIQUI MOLY, 034Motorsport, and Heinlein Racing Development for the upcoming seasons. These partnerships will allow FCP Euro to not only grow as a business but also reach new heights on the track."
With over 800 employees, LIQUI MOLY is a globally recognized manufacturer of high-performance lubricants, motor oils, additives, vehicle repair products, chemical repair tools, service products, glues, and sealants. "For LIQUI MOLY, enthusiasm is the driving force behind all our thoughts and actions," stated David Bibb of LIQUI MOLY. "We're no stranger to TCR competition, we've campaigned several GTI TCR's out of Germany with LIQUI MOLY Team Engstler to great success."
Since 2005, 034Motorsport has become known for bringing substantive motorsport-quality performance upgrades and tuning solutions to Audi and Volkswagen vehicles. Through competition and innovation, the company has developed a loyal following among enthusiasts. Founder Javad Shadzi states, "We pride ourselves on developing the finest track-proven and street-friendly performance upgrades for Audi and Volkswagen enthusiasts and are thrilled to partner with FCP-Euro in campaigning the GTI TCRs." FCP Euro's Nate Vincent continues, "If you are going to partner with a company that knows VW's, there's no one better than 034Motorsport. They will elevate our catalog, our on-track expertise, and our VW fan base."
FCP Euro has also partnered with Heinlein Racing Development to handle the race logistics, prep and trackside support for the season. HRD is a New Jersey-based road racing prep shop led by Tivadar Heinlein, awarded the "Zimmermann Cup" in 2005 and part of the 2006 GT Championship Winning program with Groom Racing. HRD will bring a history of competitive engineering and racing development techniques to support the FCP Euro team throughout the year.
Race fans can keep up-to-date at
race.fcpeuro.com
.
About FCP Euro
FCP Euro is an online retailer of Genuine, OE, and OEM auto parts for European cars, specializing in BMW, Volvo, Audi, VW, Mercedes, and Porsche parts. Since 2001, FCP Euro has raised the bar for service and quality in the automotive industry and has become recognized by enthusiasts as the premier source for OEM and Genuine car parts. With a Lifetime Replacement Guarantee on all parts, Hassle-Free Returns, and free shipping on orders over $49, FCP Euro has continuously challenged the boundaries and advanced the standards of quality, service, and technology in the automotive industry.
Contact
FCP Euro
Michael Hurczyn
1-877-634-0063
www.fcpeuro.com

Contact