Fitness Ridge Resort Provides Giveaway to NBC'S "The Biggest Loser" for Episode Airing Tuesday, March 18 (8-10 PM ET)
Fitness Ridge Resort & Spa – Ordinary People, Extraordinary Results.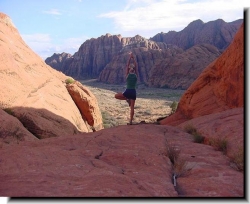 Ivins, UT, February 28, 2008 --(
PR.com
)-- Fitness Ridge Resort & Spa, one of the newest and fastest growing weight loss spas in the United States, will be featured in an upcoming episode on NBC's popular television show, The Biggest Loser. Fitness Ridge was approached by the show in 2007 and has readily agreed to provide the featured prize for a contestant fitness challenge on an episode set to air on March 18th.
Says David Norton, producer of the show, "When we visited Fitness Ridge we were struck by the friendliness of the staff, the beauty of the natural wonders surrounding the facility, and the quality of the facility itself; including the food and exercise programs offered there. Fitness Ridge Resort and Spa appears capable of giving people the opportunity to lose weight and get fit with results similar to our Biggest Loser Campus, but in a comfortable luxurious environment."
The giveaway will include round-trip airfare and a one week all-inclusive stay for two people at Fitness Ridge Resort & Spa; including private room lodging, meals, fitness activities, and spa services.
About Fitness Ridge Resort & Spa
Founded in August 2002 as The Body Shop Spa, Fitness Ridge was created to fill a depleted niche in the weight loss spa market. In 2006 The Body Shop Spa changed its name to Fitness Ridge and opened their doors at a new facility in Ivins, UT. In addition to their regular operations, Fitness Ridge and The Biggest Loser are exploring other branding opportunities together. Reservations can be made by calling 888-870-2639 or by visiting www.fitnessridge.com.
###
Contact
Fitness Ridge Resort & Spa
Eric Jackson
435-673-6600
www.fitnessridge.com

Contact