WealthMan Adds Fintech and Blockchain Investor David Drake to Its Advisory Board
WealthMan, the blockchain-driven platform for wealth management, announces the latest supplement to its Board of advisors.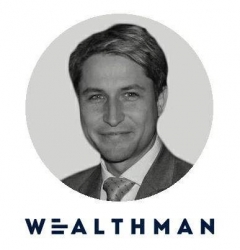 New York, NY, January 30, 2018 --(
PR.com
)-- As Chairman of LDJ Capital family office, David Drake has access to more than 100,000 investors and influencers. His investments cover over fifty directors globally who maintain relations with financial institutions and family offices managing $1.5 trillion in assets. He has represented the US Commerce Department at the Transatlantic Forum with the EU Commission in Brussels and Rome and spoke at the UK Parliament. The Soho Loft Media Group under his supervision has organized and sponsored more than 1,100 MICE in the finance industry.
David has a unique well-rounded background that arms him to not only face the challenges of the regulatory framework surrounding the crowdfunding industry, on which token generation events and initial token offerings are based, but also to be an adviser whose counsel is indisputably priceless. He currently sits on the advisory board of more than 30 blockchain-based firms.
WealthMan CEO Andrei Huseu, a seasoned expert in capital placement and hands-on trader, believes that the time has come to give digital asset holders a refined instrument to unprecedentedly boost their portfolios and gain affirmative investment experience.
"There is the glaring necessity to consider wealth managers' interests and maintain the policy of unconditional support to both them and investors," says Andrei. "We welcome David onboard as he brings to the table proficiency in investor relations, best capital management practices and expertise in global development. He is the guru whose recommendations and introductions are hard to underestimate."
David Drake observes, "Investing in and trading of crypto assets generate an intense interest from the old and young alike but most of them do not have access to fast, crystal clear, and secure wealth management. Experts who are experienced in both capital placement and digital currencies and at the same time actively practicing crypto-asset management are scarce in the world."
"I am excited to work with WealthMan as it offers through its robo-advisors a sensible and smart crypto-asset management solution that is available for everyone from HNWIs to small-scale investors, and wealth managers. WealthMan is filling a huge gap in the financial industry and using decentralized blockchain technology to execute this innovation. It is a project that the crypto industry itself will benefit from," says Drake.
About WealthMan
WealthMan is a decentralized wealth management platform driven by blockchain technology. It addresses the solution to major issues that come together with the very idea of placing trust in a third party. These include negative human factor, fraud, lack of competence and limitation of access to investment opportunities due to conflict of interest. WealthMan platform is designed to organize interaction of individuals with wealth managers minimizing the aforementioned factors. Through WealthMan platform, investors can safely form and re-balance crypto portfolios with the help of either wealth managers or algorithms. Wealth managers may launch their asset management business in a short time, with extremely low expenses and high level of safety.
Contact
WealthMan
Elena Pinchuk
+7 921 432 3943
wealthman.io
https://t.me/wealthmanofficialgroup

Contact