FCP Euro Partners with 034Motorsport for the 2018-2019 Pirelli World Challenge Seasons
FCP Euro and 034Motorsport team up to campaign a pair of VW GTI TCR's for the 2018-2019 Pirelli World Challenge seasons.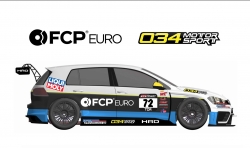 Milford, CT, February 01, 2018 --(
PR.com
)-- 034Motorsport joins FCP Euro in its two-car Volkswagen GTI TCR campaign for the 2018-2019 Pirelli World Challenge seasons. The 2018 schedule includes races at iconic race tracks across the United States including Circuit of the Americas, Virginia International Raceway, Lime Rock Park, Portland International Raceway, Utah Motorsports Campus, and Watkins Glen International. The cars will be piloted by FCP Euro's own Michael Hurczyn and Nate Vincent.
034Motorsport-backed cars have a history of winning races including the 2013 25 Hours of Thunderhill in a Audi TTRS VLN. "Racing is in 034Motorsport's DNA and has served as the ultimate proving ground for our line of substantive performance hardware and software upgrades for Audi/Volkswagen since we got started in 2005," said Javad Shadzi, Founder/CEO 034Motorsport. He continues, "This exciting partnership will enhance both the 034Motorsport and FCP Euro brands on a proven global stage."
Laszlo Tallai, Marketing Manager for 034Motorsport, adds, "Partnering with FCP Euro in the Volkswagen GTI TCRs will elevate our experience with the current-generation GTI, and bring the 034Motorsport name to Volkswagen enthusiasts and motorsport fans around the world. We hope to build upon 034Motorsport's prior racing successes while connecting with fans who share our passion for competition and innovation."
In addition to expanding its motorsport efforts, FCP Euro is also investing in further expanding its catalog for Volkswagen and Audi models. "Our Volvo catalog has historically been our bread and butter, but our BMW catalog has seen tremendous growth over the past several years," said Scott Drozd, CEO of FCP Euro. "We see a massive opportunity in the VW and Audi marketplace and we are very proud to able to partner with 034Motorsport. They have spent the last 13 years establishing themselves as thought leaders amongst VW and Audi enthusiasts, and our customers have already responded favorably."
Troy Sicotte, Global Director of Sales for 034Motorsport added, "All around the world we carefully select dealers that are like minded and ethical in business practices, ultimately putting the customer first. FCP Euro fits this requirement with aplomb and will help expose 034Motorsport to an expanded consumer base while helping give customers access to our goods with shorter lead-times in the densest areas of our country. We are inspired by their innovative customer support and know it will lead to strong sales growth in the years to come."
034Motorsport products for your Volkswagen or Audi can be found on
www.fcpeuro.com
.
Race fans can keep up-to-date with all the action on race.fcpeuro.com
About FCP Euro
FCP Euro is an online retailer of Genuine, OE, and OEM auto parts for European cars, specializing in BMW, Volvo, Audi, VW, Mercedes, and Porsche parts. Since 2001, FCP Euro has raised the bar for service and quality in the automotive industry and has become recognized by enthusiasts as the premier source for OEM and Genuine car parts. With a Lifetime Replacement Guarantee on all parts, Hassle-Free Returns, and free shipping on orders over $49, FCP Euro has continuously challenged the boundaries and advanced the standards of quality, service, and technology in the automotive industry.
Contact
FCP Euro
Michael Hurczyn
1-877-634-0063
www.fcpeuro.com

Contact