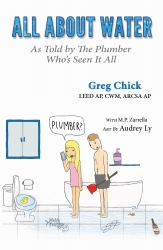 Sacramento, CA, February 02, 2018 --(
PR.com
)--
Ramona California's Greg Chick
, a LEED-AP plumber and water advocate with over 40 years experience as a licensed contractor, tells the complete story of water through two fictional characters, cousins named Mike and Mac Ro. Mac and his wife Jane care about Planet Earth, they are advocates for nature. They do their best to educate Mike and Goldie who love the fast life and creature comforts and could care less about conservation and sustainability. Illustrator Audrey Ly, a recent honors graduate of San Diego State University with a degree in Multimedia, brings every concept to life with vibrant story-telling art. There is nothing in the marketplace today like this timely and relevant book.
It's easy-to-read and full of verifiable, useful information. The book is intended for first-time homeowners, but anyone who uses water will benefit from reading this fun little book no matter how they get their water. The artwork is engaging and explains the concepts covered. "A picture is worth a thousand words" is the theme of this volume packed with valuable information and an entertaining story told in pictures.
Reviewer Kat Kennedy says, "I rate this book 4 out of 4 stars. I recommend it to anyone wishing to learn more about water, plumbing, and conservation. It offers valuable information and includes plenty of references and links for those seeking more. As an informative guide for families wishing to teach their children about conservation or a helpful reference in the home, All About Water delivers."
Readers learn about water use including how to safely re-use graywater. Plumbing design is discussed and illustrated in easy to understand schematics. Chapters and related artwork highlight new technologies, efficient outdoor irrigation and planting as well as plumbing design, fixtures, features and much more.
A chapter on municipal codes governing public water supplies includes information about the cost of water, how to read and understand your water bill as well as discussion about the complexities of municipal water management. Every living thing requires clean water to live and providing that water is a multifaceted process. The book shows how water managers and plumbing professionals are just as important to public health and safety as medical professionals.
The book is full of the history of water through the ages, including fun stories of how central water supply maintenance and indoor plumbing began which add a layer of interesting trivia.
Mary Eggert- Global Vice President and Chief Innovation Office at GlobalWaterWorks.org says:
"All About Water lives up to its title! For all those who have advocated for more efficient use of fine water resources, this book is an essential tool in the toolbox. Author Greg Chick uses his 40+ year history as a Southern California plumber, including the last ten years as the 'Do-it-Yourself Plumber' on YouTube, to share personal experiences and to explore the quality, quantity, social and economic aspects of water. Not only does it help the layman understand the value and opportunity we all have with water, but it provides practical tips to help us all be more thoughtful and efficient consumers. The book is a quick and informative read that is relevant to all ages."
About Calling Card Books
Calling Card Books is a young full-service indie publisher. The Mission of Calling Card Books is to produce books that Educate, Inspire and Inform. Our Vision is that our books help the general welfare of the reading public by working with authors whose message can transform lives. Our authors are experts who can teach, preach and inform or people whose life story is inspiring and will make a difference in the lives of others when shared. Order copies at
www.callingcardbooks.com
. Bulk orders welcome.