ANIMANTZ's Beo n' Peno Signs Its Investors, Rotomaker and iLO Entertainment
Animantz, an animation studio, has introduced a new wave of entertainment for kids through its homegrown slapstick animation series called Beo n' Peno and has recently signed its investors, Rotomaker and iLO Entertainment.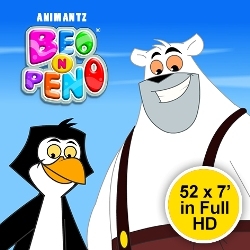 San Francisco, CA, February 06, 2018 --(
PR.com
)-- Slap stick animation has had its golden age and continues to be the most favourite entertainment in the world of animation. The smasher series like Roadrunner and Tom & Jerry are the best examples that we never stop loving its action comedy.
Animantz studio is introducing a new wave of entertainment through its homegrown slapstick animation series called Beo n' Peno. Created by a group of experienced creative professionals, this fast paced series has total of 52 episodes with each lasting up to 7 mins.
Trailer of Beo n Peno
https://youtu.be/GW9TheI8CWs
Currently, the first 10 episodes of Beo n Peno are already released and widely enjoyed by Kids in digital platforms like ALT Balaji in India, AMEBA TV in USA and Canada, TOON GOGGLES, USA and BATTERY POP, USA.
https://www.amebatv.com/series.html?req=414
https://www.batterypop.com/creators/beo-n-peno
About the series:
Beo n Peno is a story of a fun-run happening between Beo, an idiosyncratic Polar Bear, and Peno, the quirky penguin. Beo is a big guy who happen to be sweet but extremely short-tempered and believes that he could get anything he wants using muscle power. Peno, on the other hand, is small in size but Brainy believes in the smart job.
With stunning landscapes combined with exaggerated physical humor, the series derives its stories from the highly imaginative day to day events of Beo n' Peno's lives in the polar and other settings. There will be a lot of brawls, pranks, chases, cuddles, and love between Beo and Peno. The most entertaining aspect of these stories is a tug of war events, where Peno comes up with quirky ideas to overcome glitches set by Beo. Stylized characters and wacky animations are certain to bring and retain kids imagination to the world of Beo and Peno and promises to give the needed fun and entertainment for the kids to cherish forever.
Animantz has strengthened its roots by joining hands with Rotomaker and iLO Entertainment as investors. With this combined initiative, they promise to complete all 52 episodes by the end of 2018 which will be available on leading kids entertainment broadcasting and digital platforms. Also by June 2018 they will be releasing 26 episodes.
One of the investors, Rotomaker, is a US-based VFX outsourcing company which has served more than 1000 International and Domestic VFX films and TV series. The CEO and Founder of Rotomaker Mr. MIKE Yatham says, "I am very happy to be the part of this creative venture. I have absolute confidence in the potential of Beo n' Peno's team and hope the series will be another masterpiece animation series like Tom and Jerry and Road Runner."
Another investor company, iLO Entertainment is a Singapore based Animation Studio, and its CEO Mr. Rinu says that he is excited to be a part of the project and also happy to support an Indian company to come with such a wonderful content.
With Rotomaker and iLO's solid investment support, Beo n' Peno's entire episodes is sure to successfully hit the market this year and bring in a new world of entertainment to kids.
Contact
Animantz
Prabakar Thirunavukarasu
+919840929191
www.animantz.com

Contact