New Accessory for Protecting and Carrying Snowboards Awarded Patent – Board Bootie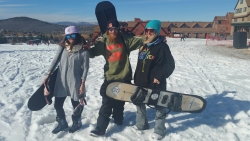 Valley Forge, PA, February 08, 2018 --(
PR.com
)-- Board Bootie LLC, the creator of a lightweight new accessory for protecting and carrying a snowboard hands-free has been awarded a patent by the United States Patent and Trademark Office – US Patent No. 9,849,366.
"Board Bootie having been approved for a patent by the USPTO is a monumental event for our company," says David Thornbury, creator of Board Bootie. "It clearly distinguishes Board Bootie as a one-of-kind snowboard product in the crowded snow accessories arena. I couldn't be happier to have achieved patent status for a product that was designed based on a hole in the market that has existed since the inception of snowboarding. It's amazing that it has taken so long for a blindingly obvious product like Board Bootie to make it to market."
The patent was largely based on the collapsible nature and light weight (about 11 oz.) of the product. This allows boarders to protect their boards, and their cars, without having to use one of the unwieldy products that have been around for years. The easy on and off capability of Board Bootie makes it a no-brainer for using every time you hit the slopes. It was designed to:
· Apply and remove in seconds
· Fit snugly on a board
· Help keep edges sharp and wax job fresh
· Protect hands and gloves from cuts
· Collect water from draining into a car or home
· Collapse compactly enough to put in a jacket pocket
"It's inconceivable to me that most people wouldn't even consider not protecting their investment in their cell phones with a protective cover but they don't apply that same common sense to their costly snowboard investment," says David Townsend, veteran snowboard accessories Manufacturer's Representative. "I'm delighted to get the opportunity to introduce Board Bootie to my many ski and snowboard shops and mountain resort customers."
About Board Bootie, LLC: Board Bootie, LLC is a board sports equipment accessory company which designs, produces and sells lightweight covers for protecting and transporting snowboards and wakeboards. The company was founded in 2016 and is headquartered in Valley Forge, PA. For more information, and to see Board Bootie in action, visit their website at https://www.boardbootie.net. Board Bootie … some things just shouldn't be naked.
Contact
Board Bootie, LLC
David Thornbury
+1-610-331-7713
https://www.boardbootie.net

Contact