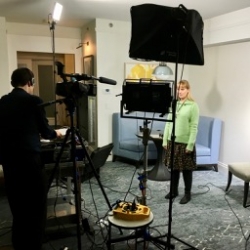 Toronto, Canada, February 09, 2018 --(
PR.com
)-- On January 24th, 2018,
Medlantis.org
, in partnership with global experts in MR safety from The Association for Radiologic & Imaging Nursing (ARIN) and the Society for MR Radiographers & Technologists (SMRT), delivered the first of three talks on MRI Safety. The talk was delivered by Vera Kimbrell, BS, R.T. (R)(MR), FSMRT, who currently leads MR Applications and Training at Brigham and Women's Hospital in Boston, MA., is a former SMRT President (2013­-2014), and is the current Chair of the SMRT Safety Committee.
Andrew Witchell, COO of Medlantis.org said, "We're honoured to be working with the experts at the ARIN and SMRT. We were able to help them reach a broad geographic audience. There are many healthcare professionals with a high desire for this level of expert teaching, many who will no doubt immediately apply it in their workplace."
The course was produced and live­streamed by Medlantis.org to viewers in the US, Canada, the UK, and Australia and had attendance 300% higher than anticipated.
The course covered topics of how MRI works, the safety issues involved when performing MR exams, and the best practices for operating safely within MR environments. "MRI is a useful and very important tool for medical imaging. It's a safe imaging modality but there are serious safety issues to be managed. All staff must be trained to understand and adhere to the rules. Education, access control, and constant vigilance are the keys to success in the prevention of accidents. By working together, watching out for each other and those coming into our work area, we can maintain consistent safety practices for our workplace and patients, and ensure we keep MRI as a very safe and very good diagnostic tool," said Vera Kimbrell, course presenter and SMRT Safety Committee Chair.
Bruce Boulter, Executive Director for ARIN said "We had a great audience of Nurses and Technologists, who made time in their lives to join us for this event. We work together every day, side by side, to make our patient's lives better. This proves the value of linking experts with audiences around the world in an interactive online setting and we're looking forward to working with our colleagues at the SMRT and Medlantis.org on our next two events in this series as the response to this first event has been extremely positive."
This event will be succeeded by two more scheduled for mid February 2018, and then mid April 2018.
About
Medlantis.org
: Medlantis data mines & matches 1000's of hours of medical lectures, cases, procedures, workshops, and demonstrations from the world's top medical societies, and then matches. that information to a Healthcare Professional's interests and preferences to help them vastly improve the return on their enormous effort invested in staying clinically current. Given today's speed and volume of change in medical and clinical technology and associated patient ­outcomes, Medlantis delivers the best clinical & medical video matches, in real­time, to a healthcare professional's device of choice; mobile, tablet, or desktop.
Medlantis also seeks to help solve the projected 12.9 million shortage of trained Healthcare Professionals worldwide, by providing its products free of charge to healthcare professionals from Hinari Group A countries.
About ARIN: The Association for Radiologic & Imaging Nursing (ARIN) was founded in 1981 as the professional organization representing nurses who practice in the diagnostic, neuro/cardiovascular, interventional, ultrasonography, computerized tomography, nuclear medicine, magnetic resonance, and radiation oncology. Their mission is to provide Radiology Nurses with the knowledge and resources to deliver safe quality patient care in the imaging environment.
arinursing.org
About SMRT: The Society for MR Radiographers & Technologists (SMRT), A Section of the International Society for Magnetic Resonance in Medicine (ISMRM), is the leading non­profit organization that provides an international forum for education, information and research in magnetic resonance for radiographers and technologists throughout the world. The mission of the SMRT is to advance global education in the field of magnetic resonance.
smrt.org