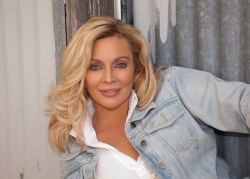 Dallas, TX, March 09, 2018 --(
PR.com
)-- Julie W. Ingram of Dallas, Texas has been recognized as a Professional of the Year for 2018 by Strathmore's Who's Who Worldwide for her outstanding contributions and achievements for over 21 years in the field of entertainment.
About Julie W. Ingram
Julie Ingram is the CEO of Julie Ingram Enterprises which provides entertainment nationally. She is an actress, singer, songwriter and author. She provides voiceovers for radio and multi-media projects. Ms. Ingram has served with Long Shot Records for over 20 years. She is affiliated with S.A.G.-A.F.T.R.A.
As President of Summit Partners Management Publishing Company, Julie has written more than 250 songs of various genres, as well as a children's book. She has focused on the Country Radio market and has made special appearances at such venues as the Mesquite Rodeo (TNN), LoneStar Park in Grand Prairie and the Men's Gymnastic VISA Cup (NBC).
Born on July 15, 1959 in Marysville, Kansas, Julie dreamed of one day entertaining large audiences. She took her first step toward that dream by representing her home town of Centralia in the Jr. Miss Pageant. Pageants seemed to come naturally to her, and she went on to win the title of Miss North East Kansas, Miss Arlington, Miss Bauder Fashion College, Miss Yellow Pages and Miss Urban Cowgirl. She was also a finalist in the Miss World and Miss Kansas Pageants, but Julie knew there was more to her dream of entertaining. Before high school graduation, she enrolled in the Barbizon School of Modeling and also attended Bauder Fashion College further enhancing her modeling career. She took acting and voice lessons making her a triple threat. Julie opened her own modeling/promotional agency out of "too many jobs" to handle herself. Being an accomplished make-up artist in her own right, she trained and taught make-up seminars to many artists that were hired by Neiman-Marcus and then Sanger-Harris department stores. She was an actress in the hit television series "Dallas" and did a national poster with "Pro-Arts" that sold more than 600,000 copies. Her national print ads, as well as her many radio/voice-over and television commercials always gave her name credit.
Ms. Ingram produced her self-titled CD in 1996, then released "Happy Valentines" and "My Best Friend" in 1998 along with her popular single, "Please Forgive Me." In 1999-2000, the hits kept coming with the release of "Long Shot Girl" and "Touch of Life." In December 2001, she showcased her range of talents with "KIDS That's What It's All About." In response to the tragedy of 9/11, she released her hit single "Be Proud of your Flag," which included a music video filmed on the Battleship Texas in Houston. The song was included on her album, "YOU," which honored all service men and women serving our country. In September 2007, Julie's new break-through album, "Keep On Believin" was released.
Julie has performed a concert at the Majestic Theater in Dallas sponsored by KPLX radio and WFAA-TV and sang a "Touch of Life" on KTVT's Positively Texas for a Northwood University benefit. A guest appearance at Dallas' Theatre Three's Gala with Morgan Fairchild showcased her diverse acting and vocal range ability.
Her KIDS show performances at the TI Founders IMAX Theatre at The Science Place in Fair Park benefited the new children's venue between The Science Place, The Dallas Zoo, The Dallas Museum of Art and KERA (PBS). She sang "America the Beautiful" for the Texas Parks & Wildlife Expo in Austin, Texas, around the release of her singles "Endurance" and "YOU." Julie's original music has also been performed at The Heard Natural Wildlife Museum in McKinney, Texas and The Texas Country Music Hall of Fame in Carthage, Texas. In her spare time she enjoys reading and physical fitness.
"The Longshot Girl," a moniker chosen for both her 'longshot" odds in the music business and her ability to handle a shotgun, has been touted as having "grace and dignity with a sense of humor, beautiful voice and earthy delivery."
For further information, please contact www.julieingram.com.
About Strathmore's Who's Who Worldwide
Strathmore's Who's Who Worldwide highlights the professional lives of individuals from every significant field or industry including business, medicine, law, education, art, government and entertainment. Strathmore's Who's Who Worldwide is both an online and hard cover publication where we provide our members' current and pertinent business information. It is also a biographical information source for thousands of researchers, journalists, librarians and executive search firms throughout the world. Our goal is to ensure that our members receive all of the networking, exposure and recognition capabilities to potentially increase their business.