Amazon Releases the Long-Awaited Beyoncé and Destiny's Child Documentary on Amazon Direct
The wait is over for devout members of the BeyHive, who are aware of the humble beginnings of Beyoncé and Destiny's Child as the group called Girls Tyme, which Beyoncé headed with fellow Destiny's Child members Kelly Rowland and LaTavia Roberson and former Prince protégé Ashely "Tamar" Davis. Girls Tyme The Untold Story of Destiny's Child has arrived.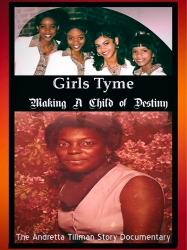 Houston, TX, February 20, 2018 --(
PR.com
)-- The newly released Documentary "Girls Tyme - Making a Child of Destiny (The Andretta Tillman Story)," shares never before seen interviews from key people who influenced Beyoncé and Destiny's Child on their rise to fame. The documentary includes clips of rare unseen performance footage of the Flawless star and the rest of her Girls Tyme crew.
Produced from largely previously unreleased footage and personal interviews, the documentary examines Andretta Tillman's life as the driving force in launching Queen Beyoncé and Destiny's Child's legendary careers, as well as many other Houstonian artists, who also rose to fame under Andretta's management.
"We felt an obligation to show the world the true impact of Andretta's irreplaceable contribution to the success of Queen Bey and her Destiny's Child band mates. We opened the vault of Andretta Tillman's estate to provide the viewer with an understanding that, what you see Beyoncé and Destiny's Child doing on stage today, was rooted in them through Andretta's irreplaceable influence and tutelage, from way back in the early 1990's as young ladies in Girls Tyme. Where they are today, is a direct result of the solid foundation Andretta Tillman taught them." cited Executive Producer of the documentary, Brian "Kenny" Moore (from whose book the documentary evolved).
"We at Dousic are delighted to have secured a partnership with Amazon to ensure the documentary reaches the masses. We are giving Beyoncé and Destiny's Child fans an up-close look at the excitement, distresses and sacrifices made to elevate the band to stardom, by revealing the hidden part of their story of Andretta's enormous contribution and sacrifice that has not been told, or has hitherto been omitted," said Michael Ferguson, Executive VP of Dousic Media Group.
The documentary features interviews with Gospel great Kathy Taylor, Original Girls Tyme/Destiny's Child members Nina and Niki Taylor. Former Co-manager Kenny Moore, Hip Hop Producer Cory Mo, Former Rap a Lot recording group Flajj, Destiny's Child first choreographer Harlon Bell, and members of Andretta Tillman's family.
www.amazon.com/Girls-Tyme-Making-Child-Destiny/dp/B079X55SVL/ref=sr_1_1
Contact
Dousic Media Group
Jeremy Dickens
832-318-6077
http://www.dousic.com

Contact