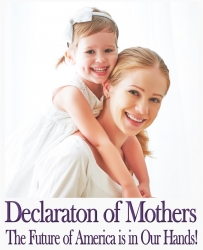 Washington, DC, February 27, 2018 --(
PR.com
)-- National Movement of Moms head to D.C. March 8th giving voice to the Silent Majority of Moms in America.
On March 8, 2018, Moms across America will join a national press conference to present the Declaration of Mothers to Congress and the nation declaring the self-evident truths that will dramatically decrease violence, increase prosperity, promote civility, and heal our nation from the inside out. The Press Conference will be held at the Phyllis Schlafly Center in Washington D.C., the perfect backdrop to honor the mothers of America and the values Phyllis spent her life defending.
HomeMakers for America
released the Declaration of Mothers in May 2017, launching a national movement of moms to reclaim our culture for truth, family, and freedom. Since then, thousands of women in over 4,000 cities and every state in America have signed the Declaration. Governors from several states have or are in the process of issuing proclamations recognizing the Declaration of Mothers and proclaiming March 8th as International Mother's Influence Day. On February 2nd, Congresswoman Diane Black (Rep, TN) introduced the Declaration of Mothers into the Congressional record. The national press conference - which will live streamed on Facebook - presents the Declaration of Mothers to the nation and the world. The Live Stream will allow moms throughout America to have their voices heard and be a part of the event right from their own homes.
The press conference will also proclaim March 8th as International Mother's Influence Day and launch "A Day with A Mother" - a much different message than radical feminists are promoting with their "Day Without A Woman."
The Moms March Movement encourages moms to wear lavender that day - the official color of the movement - and be seen and heard working, serving, and shopping in their communities. Lavender is a color that represents refinement, purity, grace, love, and devotion. It is a shade of purple - the color of royalty; and red, white and blue blended together - a uniting color that represents the best in women - the perfect color to represent this national movement of moms and all it stands for. Moms who work will wear lavender that day to show their employer they're spending a day with a mother. Women and girls of all ages will be wearing lavender to work and school to show their support for the moms in their lives. Moms are being encouraged to gather their children, don their lavender, and serve in their community through park clean-ups, serving shelters, food drives, etc.
"The battle Phyllis Schlafly fought and won four decades ago is resurfacing with a vengeance, as witnessed in the Women's March protests and their radical anti-motherhood crusade, but that is not what the majority of women in America stand for. The Declaration of Mothers gives voice to the silent majority of women in America who love God, reverence family, and cherish freedom. The enormous attention it has received from mothers across the nation is clear evidence of just how many women in America are hungering for truth and a higher standard of decency and civility. It is women who set that standard, and it's time to raise the bar," said Kimberly Fletcher, president of HomeMakers for America and the Moms March Movement.
"A Day with A Mother is a celebration of all that is good in women and the powerful influence mothers have on our culture. Our nation's problems will not be solved by more laws, they will be solved by raising stronger, more virtuous, freedom-loving citizens. That doesn't begin in Washington. It begins in the home," said Karen Vaughn, Best-selling Author of World Changer and member of Moms March Movement Advisory Board.
"Despite what the media and radical feminists would have us believe, the pink-hatted protestors do not speak for the majority of women in America. Through the Declaration of Mothers, the silent majority of women in America are speaking loud and clear. Lavender is the new pink, and the reign of radical feminism is over!" said Martha Boneta, a member of the advisory board for the Moms March Movement.
Moms March Movement is a national movement of moms to reclaim our culture for truth, family, and freedom. For more information visit:
www.momsmarchusa.com
Kimberly Fletcher, executive director of the Moms March Movement, is the wife of a retired Air Force officer, mother of 8 children, and president and founder of Homemakers for America. She is the author of "WOMEN: America's Last Best Hope," contributing writer with Townhall.com, and a radio host on Omaha's The Answer, a Salem Broadcasting station.
For more information or to arrange an interview with Kimberly Fletcher, Karen Vaughn, or Martha Boneta contact: Cassiopeia Fletcher 937 477 4365 or cassiopeia.fletcher@gmail.com