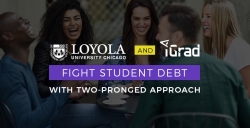 San Diego, CA, February 28, 2018 --(
PR.com
)-- Loyola University and
iGrad
, an online financial literacy platform, have partnered to fight back student debt among their student body with a dual approach featuring both online and classroom education.
When Chicago's Loyola University welcomed a new president to their administration, the school also ushered in a new commitment toward financial literacy. With 60% of the student body requiring loans, according to College Navigator, and the national student debt quickly growing, Loyola University tasked John Campbell, Bursar, and Tobyn Friar, Director of Financial Aid, with the dual mission of developing a classroom curriculum as well as implementing an online financial literacy platform for the entirety of their incoming freshman class. Tobyn Friar knew firsthand the need for the new educational initiatives, "As the Director of Financial Aid, it's clear to me our students need this education. We welcome any opportunity to not only improve our students' college experience, but those important years afterwards as they wrestle with repayment."
Loyola partnered with iGrad to launch the new financial literacy initiatives. As the Loyola-branded site was in development for the rest of the student body, a seminar was offered to select freshmen identified as needing the financial education most such as first-generation and low-income students. The five-week seminar, developed using the iGrad financial literacy curriculum, not only offered insight into the financial topics the students most needed assistance with, but also into the effectiveness of the platform itself. Testing from the seminar revealed an 18% knowledge gain over five weeks. John Campbell further remarked on the need for the education, "Initially, more than 80% of our students incorrectly assumed FICO was a credit bureau. Despite available resources, students aren't getting this knowledge. The seminar and the platform offer new avenues to the information in a way the students will retain." It is also worth noting that students who completed the seminar expressed a desire for the seminar to be longer and cover more information, suggesting the education was valuable and well-received.
The incoming freshman class will have access to the online financial literacy platform iGrad offers as well as traditional classroom seminars using the iGrad curriculum. The online platform is specifically designed to engage students as they work through the complex topics of personal finance, with a focus on student loans. Key features of the iGrad financial literacy platform include an instant-upload tool for your student loan information, along with servicer contact information, videos, games, tools, quizzes and other engaging content. Administrators of the platform have access to realtime reporting providing valuable insight into the content most frequented by students, calls-to-action to increase engagement, and a marketing suite to aid promotion. Rob LaBreche, CEO of iGrad, supported Loyola's determined approach, "Loyola's choice to use both the platform and the curriculum is very exciting. We have exceptional data showing the platform and the curriculum each produce results, but both together provides a powerful combination!"
Contact us for more information about the iGrad financial literacy platform or this partnership.
About iGrad:
iGrad, a technology-driven financial wellness education company, encompasses two unique and award-winning white-label platforms: iGrad™ and Enrich™, both designed to cover a wide spectrum of money stresses and needs. Both platforms offer a high level of interaction, customization, and adaptive learning technology.
iGrad is a three-time winner of Education Program of the Year (The Institute for Financial Literacy), Best Product award for three years running (University Business Magazine), as well as the Outstanding Consumer Information Award (AFCPE).
The iGrad platform - for higher education - is established on over 600 campuses, empowering students to make wise financial decisions and easing their financial stress.
The Enrich platform - for employers and financial institutions - uses a prescriptive approach to develop a personalized financial wellness action plan for every user.
About Loyola University Chicago
Founded in 1870, Loyola University Chicago is one of the nation's largest Jesuit, Catholic universities, with more than 16,600 students. Nearly 11,500 undergraduates call Loyola home. The University has four campuses: three in the greater Chicago area and one in Rome, Italy, as well as course locations in Beijing, China; Saigon-Ho Chi Minh City, Vietnam; Vernon Hills, Illinois (Cuneo Mansion and Gardens); and a Retreat and Ecology Campus in Woodstock, Illinois. The University features 13 schools, colleges, and institutes, including the Quinlan School of Business, Marcella Niehoff School of Nursing, Stritch School of Medicine, College of Arts and Sciences, School of Communication, School of Continuing and Professional Studies, School of Education, School of Law, School of Social Work, Graduate School, Institute of Pastoral Studies, Institute of Environmental Sustainability, and Arrupe College of Loyola University Chicago. Ranked a top national university by U.S. News & World Report, Loyola is also among a select group of universities recognized for community service and engagement by prestigious national organizations like the Carnegie Foundation and the Corporation for National and Community Service.