Charles & Colvard Collaborates with Leading Points to Launch Exclusive Program for Military Customers
Military Exclusive pricing for our Heroes and their Families.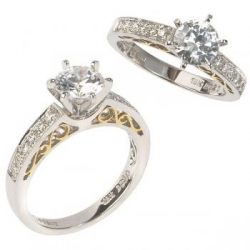 Research Triangle Park, NC, March 08, 2018 --(
PR.com
)-- Charles & Colvard, Ltd. (NASDAQ: CTHR), the original and leading worldwide source of created moissanite, today announced the launch of an exclusive program for military servicemen and women and their families. By collaborating with Leading Points, which specializes in helping companies develop and implement comprehensive military programs, Charles & Colvard now offers specific benefits to those that have served and are currently serving in the U.S. Armed Forces.
Currently, all United States Servicemembers, all Veterans and all Military Family members are eligible for a 20 percent discount on all Forever OneTM moissanite jewelry purchased from Charles & Colvard's website, charlesandcolvard.com.
"We recognize that the freedoms we have to innovate are largely in thanks to the brave servicemembers and their families who make huge sacrifices every day to protect this country," said Charles & Colvard President and CEO Suzanne Miglucci. "Putting together a special program for our military customers is one way we can give back and say, 'thank you.' This exclusive offer will help our servicemembers and their families commemorate special moments in their lives with luxurious gifts at affordable prices."
"Charles & Colvard has a long-standing history with the military as being a brand of choice to celebrate key moments," said Kevin Sullivan, president of Leading Points. "We are proud to partner with them to bring their high-quality jewelry and affordable pieces to members of the military."
To learn more about this program, go to
www.charlesandcolvard.com/military
.
Charles & Colvard, the original creator of moissanite, believes luxury can be both beautiful and conscientious. Moissanite is a very rare natural mineral that Charles & Colvard re-creates in a lab, and when it's expertly cut and faceted, it becomes the world's most brilliant gem. In fact, moissanite is harder than ruby, emerald and sapphire, yet a fraction of the cost of other comparable gemstones.
For more information about Charles & Colvard, please visit: https://www.charlesandcolvard.com/.
About Charles & Colvard, Ltd.
Charles & Colvard, Ltd., based in the Research Triangle Park area of North Carolina, is the original creator and leading source of Forever One™, Forever Brilliant® and Forever Classic™ moissanite gemstones for fine jewelry. Moissanite is unique, available in three color grades (colorless, near-colorless and faint color) and produced from silicon carbide (SiC) crystals. Charles & Colvard Created Moissanite® is sold with a Limited Lifetime Warranty to wholesale distributors, manufacturers, retailers, TV shopping networks, and designers as loose stones or set in a wide variety of quality metal setting options. Charles & Colvard, Ltd. also sells direct to consumers through its wholly owned operating subsidiary, charlesandcolvard.com, LLC and through third-party marketplaces. Charles & Colvard, Ltd.'s common stock is listed on the Nasdaq Capital Market under the symbol "CTHR." For more information, please visit www.charlesandcolvard.com.
About Leading Points
Leading Points Corporation specializes in helping companies develop and implement comprehensive military programs. They are considered the experts in matters of securing placement of their clients' products in the military exchange store distribution channel as well as developing special promotions and distributing them across the military and government markets. As a Service-Disabled Veteran Owned Small Business (SDVOSB), Leading Points' leadership team is personally involved with a number of veteran non-profits. Their daily dedication to the military enhances their mission to build strategic partnerships with companies who seek to provide the military market with the very best products and services available. The company is headquartered in Centennial, Colorado.
Media Contact:
Sarah O'Dea | Charles & Colvard | 919-468-0399
Investor Relations Contact:
Jenny Kobin | 800-695-0650 | Jenny.Kobin@IRAdvisory.com
Contact
Leading Points Corporation
Kevin T.K Sullivan LTC, US Army (Ret.)
303-976-6731
www.leadingpoints.com

Contact