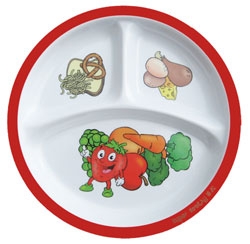 Salt Lake City, UT, March 03, 2008 --(
PR.com
)-- According to the Center for Disease Control and Prevention, about one-third of all US children are overweight or at risk of becoming overweight. In total, about 25 million US children and adolescents are overweight or nearly overweight. These rates among children are increasing at an alarming rate. Parents may coax, bribe and threaten to get children to eat properly, but children are bombarded with exciting advertisements for everything they should not be eating. Another challenge mentioned by a concerned parent was that adults " …get caught up with their own weight loss desires and forget about the kids." Encouraging healthy eating is a challenge even without all these conflicting enticements.
The Healthy Habits Plate has been developed to help counteract the dietary temptations children face and entice them to eat healthy. This colorful plate is divided into three sections: Colorful cartoon fruits, vegetables, breads, meats and milk products are arranged in the portions that your child should eat. Making mealtime fun, the Healthy Habits Plate allows your child to measure out his portions by putting enough of each item on his or her plate.
"Planning to feed our kids well can be difficult," according to originator Amy Roskelley "but it is possible. If children know what a healthy plate should look like, they can begin to make good choices that will carry them throughout their lives. In addition, the plate encourages a 'sit down meal' rather than eating 'from the box' or while doing other activities." This cute, simple plate teaches good nutrition while helping children make good choices. These early habits, once formed, can continue into adulthood.
Amy Roskelley is a stay-at-home mother of three living with her family in central Utah. Amy graduated from college with a degree in Health Education and worked for the Utah Health Department for eight years before beginning her family. Today, along with managing her family needs, and a new business, she contracts to provide wellness screenings for employees. Amy responded to her concern for good nutrition in her own family by developing a solution to benefit others: the Healthy Habits Plate. To order plates, visit Amy Roskelley's website,
http://www.superhealthykids.com/products.htm
.
###