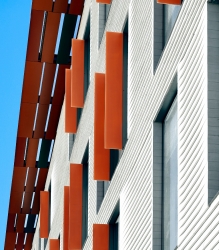 Austin, TX, March 14, 2018 --(
PR.com
)-- Building with Natural Stone is sustainable, smart and stunning. Page Southerland Page Architects get it. On February 25th, 2018 Josh Coleman, Lead Architect for the University of Texas Health and Learning Building for Page was on hand at the Tobin Center in San Antonio, Texas to received the nationally recognized Tucker Design Award. This high profile, state of the art building shines brightly on the University of Texas Medical School Campus in Austin, Texas.
When asked how the limestone design concept evolved, Josh described the firm's Senior Principal, Larry Speck's design process with "let's do something different." Larry Speck has had his design thumbprint on the heartbeat of Central Texas for over 30 years as both a professor at the University of Texas and an Architect. The UT Campus' primary external building material is a locally quarried "Cordova" Cream Limestone. He has spent a lot of time on the UT Campus and noticed that the buildings with limestone had a weather pattern that could be changed if the stone had a different design.
As described in the award submission, the masonry façade is 25,000 square feet of locally quarried Cordova Cream limestone. There were over 10,000 pieces of assorted profiles. The profiles had varying elevations changing from smooth, flat stone to transitional, custom shaped pieces and trapezoidal shapes. The precise detail and craftsmanship of Continental Cut Stone, the limestone fabricator, in concert with C.W. Oates, masonry contractor, played well as each piece that arrived on site had to be true plumb and level at every location on the façade.
Judges described the building to be of well-design on all levels. They also recognized the innovative design, especially around the windows and corners. One of the jurors paid particular attention to the design in how it would weather over time. True to the initial design for the change catalyst, weather, Continental Cut Stone is thrilled to contribute to this beacon of change. Imagine what the future of natural stone design can bring.
30 years as a nationally recognized Architectural Cut Stone fabrication mill, Continental Cut Stone specializes in custom cut limestone elements. Architects, Masons and Contractors continue to partner with CCS because of their unique ability to combine old world craftsmanship with cutting edge technology.