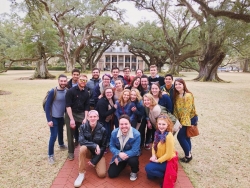 Plymouth, NH, March 21, 2018 --(
PR.com
)-- PSU Chamber Singers present Henry Purcell's "Dido and Aeneas" on Tuesday, April 3, 2018 at 7pm in Smith Recital Hall of the Silver Center for the Arts at Plymouth State University in Plymouth, NH. Conducted by Professor of music Dan Perkins, the work will be sung in English and tickets are available by calling (603) 535-ARTS and online at http://www.plymouth.edu/silver-center/
Based on the love story from Virgil's "Aeneid," this English Baroque tragic masterpiece features magnificent music, potent drama, and remarkable intensity.
This concert performance of the opera will include harpsichord and strings in a gender-bending interpretation with sexual desire at its core.
"Dido and Aeneas" tells the tale of the legendary Queen of Carthage, Dido, and the Trojan refugee prince, Aeneas. When Aeneas and his crew become shipwrecked in Carthage, he and the Queen fall in love. In the meantime, witches plot Dido's destruction. The Sorceress has one of her coven impersonate Mercury who tellsAeneas he must leave Dido and found the new Troy (Rome). Forced to choose between passion and duty, Aeneas and his sailors prepare to leave, much to the witches' delight. Dido, who cannot live without him, is absolutely heartbroken and awaits death.