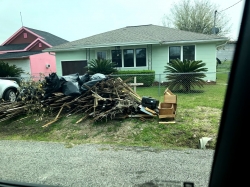 Allen, TX, March 20, 2018 --(
PR.com
)-- Hurricane Harvey tied Katrina as one of the most catastrophic hurricanes on record. The Texas Tribune reported, Hurricane Harvey caused $125 billion in damage and was the year's most expensive disaster.
Trusted World is working alongside key organizations to provide a variety of critically needed items to the victims of the flooding caused by the hurricane in Houston area. Trusted World is proving building resources, food, clothing and kitchen appliances.
In times of disaster, Trusted World has the experience to respond and handle the logistics and distribution of large quantities of product. Trusted World helps with relief during a catastrophe, through the delivery of goods, food, cleaning supplies, etc. for those who have lost everything.
Trusted World knows firsthand how the needs of a disaster are continually changing. Today, Trusted World is working within the areas most affected, Trusted World will provide a diverse array of needs to assist in the relief and recovery process.
Trusted World is dedicated to the needs of the community. They will only send what is needed when it is needed most. Michael Garrett, CEO of Trusted World stated, "During my last visit to the Houston, Port Arthur areas, I was amazed how many people are not living in their homes. Many people are either living in a trailer in their front yard or staying with family and friends as they are rebuilding their homes. Many houses in the Port Arthur area had 8' or more of water. This required everything on the first floor to be ripped out and thrown away."
To learn more about Trusted World's relief efforts, the public is invited to a warehouse open house 613 Easy Street Garland, Texas 75042 on April 19, 2018 from 5:30 pm. to 7:30 pm. For additional information, visit https://trustedworld.org/events/trusted-world-warehouse-open-house/
About Trusted World
Trusted World is a non-profit organization committed to providing the best resources, for free, to organizations who are providing services on someone else's behalf. Trusted World is a global organization working to connect supply with need. In the U.S., we work with local agencies to provide the supplies needed to ensure their clients receive what they need to live and work in their community. To learn more or to donate, visit trustedworld.org.
Media Contact: Janet Smith, 469.795.1316, jsmith@trustedworld.org