Real Equity Films Announces DigiStreamTV
Brian Sterling-Vete, Ph.D., award winning BBC documentarian has been named as president of DigiStreamTV, a division of Real Equity Films Associates. DigiStreamTV is a global streaming media channel featuring classic Science Fiction, Horror and other genres and original content.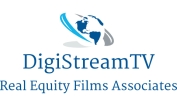 Katonah, NY, March 30, 2018 --(
PR.com
)-- Real Equity Films Associates is a multimedia film production and streaming media company. The Company has assembled an experienced team of industry professionals to operate two distinct but complimentary businesses.
www.RealEquityFilms.com
The film production division is headed by Fred C. Caruso and Tony Devon. Mr. Caruso is a Hollywood producer/production manager known for Blue Velvet, Bonfire of the Vanities, the Godfather and numerous other feature films. Mr. Devon is a well-known character actor appearing in over 200 feature films and numerous Law & Order episodes.
The Company's streaming media division, DigiStreamTV, is headed by Brian Sterling-Vete Ph.D. He is is a British Author, TV Broadcaster, Award-Winning Film Maker, and Guinness World Record Holder. Brian has worked in virtually every aspect of the TV and film industry, on both sides of the camera, and spent over a decade with BBC TV News and current affairs, and was a key member of the BBC team winning four Royal Television Society Awards.
Co-Founder Richard Michael stated, "We are fortunate to have been able to assemble a highly experienced team for both our film and media divisions."
The Company is also associated with several other award-winning film makers and producers including Robert Rothbard (Pizza with Bullets with Talia Shire & Vincent Pastore), Phil Falcone (Joe's War with Armand Assante & Ed Asner).
A highly knowledgeable technical team is assembled and has developed the streaming video software.
The Company has engaged an S.E.C. law firm and is filing a Form D to allow additional equity funding for the Company. Initial plans are to become a publicly traded company.
President and Co-Founder, Paul Esposito commented, "It's a very exciting opportunity to be able to combine original film production capabilities with a robust streaming media outlet."
The Company's streaming channel will initially focus on presenting classic Science Fiction and Horror films. Both genres are extremely popular, according to the Company. The company will initially populate its channel with approximately 500 existing films and will add new and original content.
DigiStreamTV is a subscription service tentatively priced at $7.99 month or $49.99 a year. The channel is viewable on any internet connected device including smart TVs, computers tablets and smart phones. The channel is global, with over 95 Billion devices connected to the internet worldwide.
Science Fiction and Horror fans attend over 300 related conventions each year. Several of the Company's team members are well known speakers at many of these events.
DigiStreamTV president, Brian Sterling-Vete stated, "We are quickly completing the final technical stages of launching the channel, the video management software backbone is complete, it's been thoroughly tested, and we only have to complete the customer interface image and branding. The next phase will be all about securing our initial content. I am very pleased to be able to work with our great team of highly talented people to develop the new channel and to produce quality, ground-breaking future productions."
Interested parties may contact the Company at 877-240-9349 or at info@RealEquityFilms.com. Visit our site at www.RealequityFilms.com.
Contact
Real Equity Films Associates
Richard Michael
877-240-9349
www.RealequityFilms.com

Contact