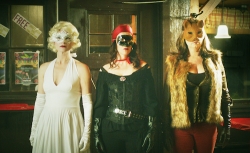 New York, NY, April 11, 2018 --(
PR.com
)-- "It's a Comedy? ... about Rape"
Angela Atwood's Lady Hunters announces back-to-back World and NYC Premieres in the Kansas City Film Festival (April 14) and Manhattan Film Festival (April 21 at 7pm, Opening Weekend Shorts Block) this month.
Lady Hunters is a dramatic dark comedy short film about three girlfriends on a moms' weekend retreat to the Adirondacks, who learn a heinous gang rapist has been released from prison nearby. Incensed by the atrocious nature of the crime against a teenage girl, and incarceration of only one of its perpetrators, the women find themselves novice killers and arbiters of justice.
The film stars three female protagonists, portrayed by Lara Buck, Angela Atwood, and Marianne Hardart. Atwood wrote, directed, produced, and acted in the film, shot by cinematographer, Lauretta Prevost; this is the pair's third film together. They received the Panavision New Filmmaker Grant and shot the 15-minute short on an Arri Alexa with Primo Prime lenses in upstate New York.
The film was inspired by Co-Creator/Co-Stars Lara Buck and Angela Atwood, when they were on a girlfriends' weekend away back in November 2014. Just one week before, the allegations against Bill Cosby were breaking news. Atwood, "We just couldn't seem to get away from the subject no matter what we did. All weekend, no matter what we were doing, we were always one word away from it. We were in shock. We were furious. As the script continued developing, swimmer Brock Turner was treated gently by the judicial system after raping a woman behind a dumpster. Three weeks after post-production was complete last September, Harvey Weinstein's revolting behavior became public."
Women and Hollywood's Kelsey Moore featured the film's crowd-funding campaign: "This project promises great action and a space to laugh at the world's absurdity. More importantly, though, its protagonists speak to the very real situation in which many of us now find ourselves: first-time, ordinary people who must step up, speak out, and take action."
World Premiere: Kansas City Film Festival
Cinemark on the Plaza, Kansas City, MO
Saturday April 14
Tickets available for purchase at: https://kcfilmfest.org/product/lady-hunters-saturday/
NYC Premiere: Manhattan Film Festival
Cinema Village, New York, NY
Saturday April 21
Tickets available for purchase at: http://manhattanff.com/event/lady-hunters/
Lady Hunters website & trailer: www.ladyhuntersmovie.com
Contact: Carol Howard
plaiddogllc@gmail.com