Watt, Tieder, Hoffar & Fitzgerald Attorney First to be LEED Accredited in Virginia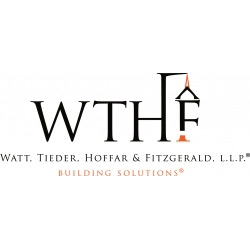 McLean, VA, March 05, 2008 --(
PR.com
)-- Chris Cheatham, attorney with the construction and surety law firm Watt, Tieder, Hoffar & Fitzgerald, has been certified as a Leadership in Energy and Environmental Design Accredited Professional (LEED AP) by the U.S. Green Building Council (USGBC). Cheatham is the only Virginia practicing attorney currently with this designation in the USGBC website directory of LEED APs.
"Watt, Tieder, Hoffar & Fitzgerald has recognized the growth of green building and sustainable development initiatives in the construction industry and we are committed to supporting this industry through education and counsel. Chris Cheatham's certification is part of that commitment," said Bob Watt, Managing Parter of Watt, Tieder Hoffar & Fitzgerald. "We can boast one of just 39 attorneys nationally accredited by the USGBC as a LEED AP, and the first practicing in Virginia. As a LEED AP, Chris will be able to assist clients through the LEED certification process, from startup to final verification of a project's green measures, as well as helping clients navigate the evolving green building regulatory requirements."
As a LEED AP, Cheatham joins a select group of attorneys nationwide who have recognized the significance of "green" building trends on the future of the building industry and have responded by getting certified. The LEED rating system administered by the USGBC is the nationally recognized benchmark for design, construction and operation of high-performance green buildings. LEED gives building owners and operators the tools they need to have an immediate and measurable impact on their buildings' performance through a whole-building approach to sustainability.
Watt, Tieder, Hoffar and Fitzgerald is one of the largest construction and surety law firms in the world, with a practice that encompasses all aspects of construction, contracting and public procurement. Since its inception almost 30 years ago, WTHF has been involved in major development and construction projects, including highways, airports and seaports, rail and subway systems, military bases, industrial plants, petro chemical facilities, electric-generating plants, communication systems, and commercial and public facilities of all types in the United States and around the globe.
For additional information, please visit the firm's Web site at www.wthf.com.
Contact: Terri T. Morrow
P: 703.749.1546
E: terri.morrow@wthf.com
###
Contact
Watt, Tieder, Hoffar & Fitzgerald
Terri Morrow
7037491546
www.wthf.com

Contact
Multimedia
Microsoft Word Version of Press Release.